By Kim Crawford, associate director of mission mobilization and connection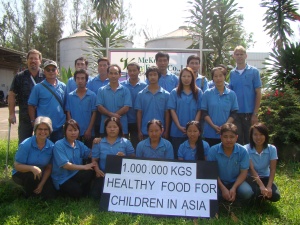 Three years ago at CHIC 2009 students and leaders gave generously to help support the work of Ruthie and Peter Dutton and Mekong Valley Foods in Chiang Khong, Thailand.
Today, Ruthie and Peter report that the mill has been operating for thirteen months producing 1,700 tons of blended flour. This flour, that is similar to cream of wheat, is a mixture of soy, rice, vitamin fortification, and sugar. This mixture has been distributed to undernourished children in Burmese refugee camps in Thailand and feeding programs in Laos, Cambodia, and Burma. Children receive many of their nutrition needs from a one and 1/2 kilo portion of the flour blend each week. Ruthie and Peter report, "We have encountered several hurdles along the way but God has been faithful and provided what we needed. We are feeling positive and thankful to God."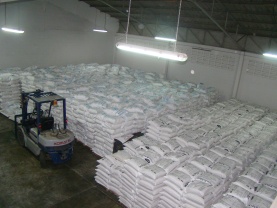 In addition, the mill employs a staff of twenty local Thai workers. "Some of these workers are believers," Ruthie explains, "and we continue to pray that we'll see changed lives among those who are not yet believers."
Please continue to pray for the work of Mekong Valley Foods, the children who receive the nutritious food and the workers of the mill.