By Ray Barrett, who participated in a mission trip to Taiwan with Covenant Merge Ministries this summer.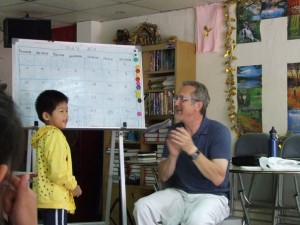 It's Friday night and the two week camp has ended.  Left is the farewell on Sunday with Da Di Church and return to the dorm  we started our stay in upon arrival.  What impacted me most this week was the song I taught to the kids, "Who's the King of the Jungle?"  They had so much fun learning that song.  Kids anywhere love to learn new songs and sing with hand motions.  Fun tunes that keep them singing it all the time.
The next morning, after I taught them this song, I was getting ready in the classroom with some of the kids who arrived early ,and I started to hum this tune.  Wouldn't you know it they just started to sing.  I laughed and joined in.
'Who's the King of the jungle?,
who's the King of the sea?,
who's the King of the universe?,
and who's the King of me !,
I tel you J-E-S-U-S….yes! …
He's the King of ME!!
He's the King of the universe,  the jungle and the Sea,
bubble, bubble, bubble,   hoo hoo."
Do you think they'll remember that song?  Oh yeah.  Do you think they'll remember the name of JESUS?  Oh yeah.. I love it.  What better name to remember than the one who holds all things together!
Sunday night we are finished with a dinner gathering of the team at a really nice restaurant.  We met with the Chairman of the Taiwan Covenant Church and had a wonderful time.  Just a while ago we sat together in one room and debriefed with Tammy, the team leader, about impacts and where to go from here.  It really helped to begin to soak in what has happened these last two and a half weeks so that I can share what things I see happening with this program in Taiwan and sort out some things the Lord was sharing in my life…. with me!
I am not sure how to impart some of the emotion that comes with experiences like this and will do more in the coming month.  The work here has only begun but I am sure that in the eyes of those here it  began some time ago.  But I feel the movement of the Spirit and see the people reaching out for hope.  I get excited.  I have friends here. I know who have moved into other areas of ministry and outreach in communities around Taiwan.  I love it.
Tuesday night…. Well Wednesday morning now here in Minneapolis.  Back early afternoon and now I'm wide awake at 2 a.m.  My hours are flip-flopped and I can't sleep even though I haven't slept much in the last 30 hours.  Did I really go to Taiwan?  I did get touched by the lives of those I came in contact with and know that God used me in a couple lives that were searching for some very things I have dealt with in my own life recently.  I loved to be able to be used in those ways. Helps me sort out my own thoughts.
What an adventure.  What an Adventurous God we serve.  What a friend we have in Jesus…
…. sang that hymn last Sunday in church at Da Di.  They sang in Chinese and me in English the words so true, we both knew.  Wow!