IRON RIVER, MI (November 14, 2007) – It may not have been the traditional way to decorate for Advent, but members of Grace Covenant Church were eager to try something new this year.
The season of Advent doesn't start until December 2, but this year the church decided to start early. During Sunday worship, members of the church surrounded the pulpit with 100 new hymnals and 100 shoeboxes wrapped and filled with gifts for children around the world. "The theme of the day could have been called '100 Ways to Serve Your Savior,' " says pastor Matt Norlen.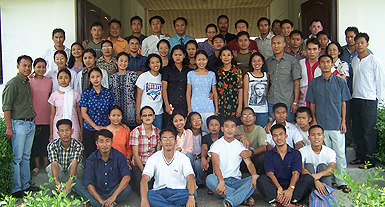 The congregation purchased the hymnals for Oriental Theological Seminary in Nagaland, India, which had requested them for use in the school and community outreach. The hymnals already have been shipped to the seminary.
The church in the upper peninsula of Michigan was more than happy to honor the request. Immy Norlen, Matt's wife, is a graduate of the school.
The shoeboxes were filled with gifts for children and will be distributed by Samaritan's Purse Operation Christmas Child.
Grace Covenant, which is celebrating its 125th anniversary this year, has a long tradition of mission and evangelism, Norlen says.