CHICAGO, IL (December 20, 2005)  – Honors continue to be bestowed on Austin  Person, goalie for the North Park University men's soccer team. On  Tuesday, he was named Academic All-American by the National Soccer  Coaches Association of America (NSCAA).
Person grew up in Omaha, Nebraska, where he attended First Covenant Church.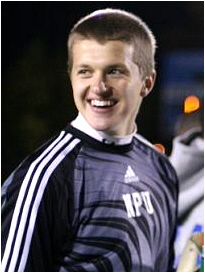 I couldn't be more proud," says head coach John Born. "Of all the awards  he has won this year, I view this as his greatest accomplishment."
The junior is the first North Park soccer player to ever achieve the  recognition, Born says. Person earlier had been named an Academic All-Region, which is necessary  to be considered nationally. At the time, Person said, "It means more to  me than being named to the First Team (All-CCIW Conference) last year."
The academic honors are awarded to students who have excelled both on  and off the field. The biology major earned a 3.67 GPA in the classroom,  was awarded the Excellence in Chemistry scholarship, and is a member of  the Tri-Beta Biology Honor Society.
While putting up big numbers in the classroom, he kept his numbers small  on the field. He frustrated opposing teams throughout the season, holding them to an  average of just 1.09 goals per game.
The 6-foot-5 goalie recorded eight shutouts – nearly half of the matches – on the way to an 11-6-1 season in 2005. The team won the conference  championship for the second straight year and advanced to the first  round of the NCAA tournament for the first time in the school's history.
Already this year, Person has been named the Most Valuable Player in the  College Conference of Illinois and Wisconsin, and was picked for the  First Team NSCAA America All-North Central Region team.
To read a related report on the North Park soccer team as a whole and  its academic prowess, please see
Soccer Team.
Copyright © 2011 The Evangelical Covenant Church.