By Stan Friedman
ALLENTOWN, PA (December 15, 2005)  – Ed Pawlowski says he is grateful for a  local newspaper poll that put him well behind his opponent in the city's  recent mayoral election.
"I was actually nine points out a week before election day," he says.  "Obviously that wasn't good."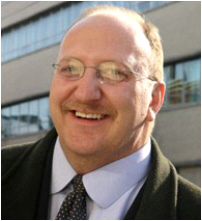 The poll turned into a blessing, inspiring his supporters to work harder  and led to an infusion of funds. He won the election by a 30-point  margin and won every district in the city. With a population of 110,000,  the city is the third largest in the state. Pawlowski, who had never run  for office, defeated a twice-elected former mayor.
Pawlowski formerly attended Grace Covenant Church in Chicago. His wife,  Lisa, is the daughter of Marleen  Halsey, who works in the Business  Office of the Evangelical Covenant Church in Chicago. The couple has a  seven-year-old daughter, Mercy, and a three-year-old son, Alex.
The mayor-elect had been encouraged to run after he resigned his job as  director of Community and Economic Development for the city. Pawlowski  says he left the job because of his dissatisfaction with the mayor's  performance that made it impossible to continue working together  effectively.
During a trip back to Chicago to visit family, Pawlowski said he prayed  extensively before making a decision about running for public office. He  determined that if he could raise $10,000 during the brief trip to  support an election bid, he would consider that an answer to his  prayers. Supporters pledged $20,000.
"I ran on a vision of really changing City Hall and putting integrity  back into the process," says Pawlowski, who assumes office January 3.
Campaigning and being in the spotlight has proved more difficult than  Pawlowski imagined. "It is a grueling task to run for office. Even when  you're honest, you're ripped apart. I knew it would challenge me and  make me grow in many different areas.
"I have no privacy now," he notes. "You lose your own identity," and he  jokingly adds, "You lose your first name – you're now mayor." Everything  in one's personal life is carefully scrutinized, he observes. "Your life  is no longer your own. That's exciting in one sense and very challenging."
Although he had never run for public office, much of his life has been  spent working with community development in one way or another. After  attending Moody Bible College and working with InterVarsity for several  years, Pawlowski did community organizing with a coalition of churches  on Chicago's southwest side. He also worked with Lutheran Social  Services of Illinois and Windows of Opportunity, an affiliate of the  Chicago Housing Authority.
After earning a master's degree in public administration from the  University of Illinois, he spent several more years working with the  Chicago Housing Authority. Pawlowski began to make a name for himself  when he moved to Allentown to become president and CEO of the non-profit  Alliance for Building Communities.
During his tenure, the barely operating organization grew dramatically,  creating affordable housing and stabilizing neighborhoods. In 2000, the  Fannie Mae Foundation honored the organization with a national award for  its housing program. The program converted apartments in old row houses  to single family housing for first-time homebuyers. Success led him to  accept his recent city position.
Pawlowski says he wants to diversify the city's tax base and strengthen  outreach and marketing. Allentown has much to offer, he says, as  indicated by the fact that three Fortune 500 companies are located in  the city.
The city still is recovering from the way it was portrayed in the Billy  Joel hit song/music video "Allentown," in which the community is  described as an impoverished city with abandoned steel mills. "He (Joel)  was talking about Bethlehem, but it didn't rhyme, I guess," he says,  noting that "Allentown doesn't have any steel mills."
What Allentown does have, Pawlowski says, is a future.
Copyright © 2011 The Evangelical Covenant Church.