MANCHESTER, CT (December 6, 2005)  – Trinity Covenant Church has arranged a  special screening of
The Lion, the Witch, and the Wardrobe
at a  local theater as an evangelistic outreach to the community's youth.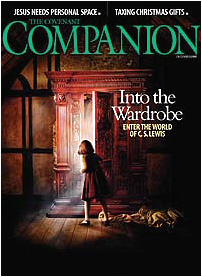 The church has purchased tickets for all 280 seats and the theater will  show the movie at 9:30 a.m. December 17, says church youth pastor Phil  Beatty. The church is selling tickets for $5 a pair, with one ticket to  be used by a church youth and the other to be given to a non-Christian  friend.
After the movie, someone will share the Christian message of the movie  and all will be invited to the youth group, Beatty says.
If your church is doing something special in connection with the release  of the movie, scheduled for December 9, please let Covenant News Service  know by emailing newsdesk@covchurch.org or calling Stan Friedman at  773-907-3324.
The current issue of The Covenant Companion features several  articles related to the book and its author, C.S. Lewis, including one  by former North Park University Professor of English Daniel de Roulet  who relates the book to modern conflicts. Bob Smietana says C.S. Lewis  wasn't the person some evangelicals may think. And, Catherine Barsotti  and Robert Johnston review the film.
Copyright © 2011 The Evangelical Covenant Church.