The reception in Malakal was overwhelming.  We arrived just before noon and there was a small choir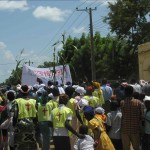 welcoming us just outside the airport grounds , another along the road half-way to church and finally a choir and parade the last 4 blocks to the church.  Upon arrival at the church we were escorted along a red carpet to the church through the singing congregation.   As soon as they settled us in our seats the women came to wash our feet.   New this time was not just washing our feet, but also our hands and arms and even our faces.   Having visited the Covenant Church of Sudan twice before I knew this was coming, but it is still very humbling to have people kneeling before you washing your feet.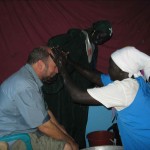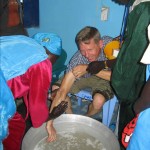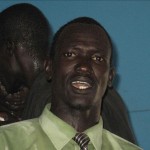 Wed.  Sept 23 we flew from Nairobi to Juba, the capital of Southern Sudan.  We were hosted by World Relief International at their guest house and base.  Thursday, Sept 24 we flew the last leg to Malakal.  Malakal is the capital of Upper Nile State in Southern Sudan.  It is a large, very flat city.
We stayed in the South Sudan Hotel.  It costs to be in an air-conditioned hotel, but the AC is really helpful to rejuvenate us and allow good rest after the heat of Sudan.  Yes, it was hot as you can see by the sweaty shirts in some of the photos.