Aug 3-8 Cindy and I were missionaries during Sr High camp at Lake Beauty Bible Camp in Long Prairie, MN.  Let me tell you, there is a disconnect between us and the Sr Hi schedule.  Breakfast not until 9 and ligh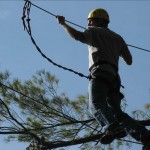 ts out at midnight with some sneak outs after that are not our schedule.  Whatever, we were able to connect with campers and staff and we did have numerous good conversations, better and better as the week went on.
I did something new and attempted the high ropes course.  It was fun, but a bit daunting.  I don't particularly like heights, but up went.  I got around on the high wire, the rope ladder, the pole, and the wood ladder.  I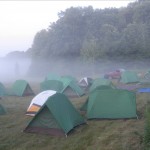 couldn't make it on the swing to rings to rope with plate.
We each went on the camp outs with the kids.  That was fun, but a bit cool.  As you can see from the photo there was a good bit of fog in the mornings.  Beautiful.
Of course camp is where the staff and campers do crazy and different things including a long slip & slide, coating their campers with shaving cream and a floating chapel using 2 pontoon boats.   We were blessed to be at the camp for the week.