By CKC Project Manager Cat Knarr
Covenant Kids Congo celebrates several wonderful achievements highlighted in the new CKC Winter 2018 Report. Here's a glimpse of what's happened through your faithfulness and the work of our amazing partners in Congo.
180,310 important, potentially life-saving immunizations have been administered.* Local health authorities administered these immunizations, which CKC supported through prolonged refrigeration and educational efforts.
37,234 people have gained access to clean water.
2,329 malnourished children have been supported with care and food in nutrition centers.
3,849 children have attended Bible camps.
And yet, this is just the beginning! CKC is a 15- to 20-year community development program for a city of about 350,000 people, working in partnership with local leaders and organizations. Whether you sponsor a child or you run with Team World Vision, you're supporting the long-term transformation of this community in DR Congo. Thank you!
See more stats and stories in the new report!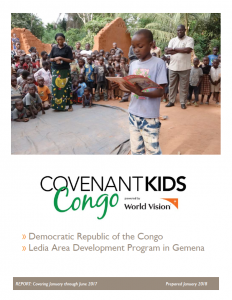 Read the full report here (PDF).
*CORRECTION: Due to an error in this report, this post originally said that 180,000 children had been immunized. This was an error. 180,000 immunizations have been administered, not 180,000 children immunized. The report has been corrected and a new PDF file has been uploaded with the correction, which appears below:
"In Ledia, vaccinations are recorded by the Ministry of Health and then reported to World Vision staff. The Ministry of Health numbers represent the number of vaccinations administered, not the number of children who received vaccinations. Through a complex process of communication, translation, and reporting, the Ministry of Health numbers were mistakenly misrepresented in a recent donor report. We reported 180,310 children received vaccinations, when in reality 180,310 vaccinations were administered. Thank you for your patience and grace as we carefully and thoughtfully strive to continue to provide accurate reporting."