By Sara Blomgren, Serve Globally intern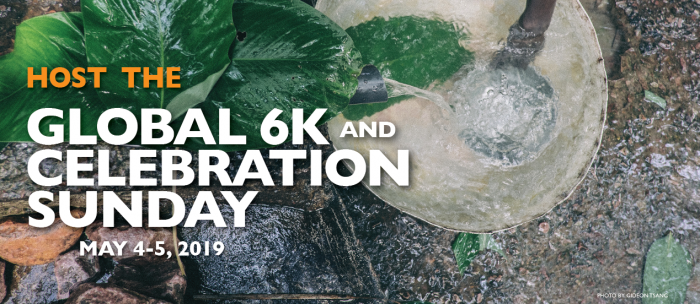 After great success in last year's Global 6K, we are excited to announce that this year, the 6K will be on May 4, 2019 and registration is now open!
The Global 6K for Water is an opportunity to grow spiritually, engage your community, and expand access to life-giving clean water, while coming alongside our friends in Congo who make this walk every day.
It's also an opportunity to get more children sponsored. Our goal this year is to sponsor 1,000 children through the CKC Global 6K! You can help by not only signing up for the Global 6K, but also finding a sponsor for the child on your race bib – whether you sponsor that child yourself or invite someone else to sponsor them.
Join the Effort
First, host the Global 6K for Water at your church! Covenant churches and other churches around the world will be walking and running together on Saturday, May 4.
Step 1: Register. Sign up to host the Global 6K for Water in your church's neighborhood! Watch a 30-minute live webinar to learn more. Sign up at WorldVision6k.org/ckc. You'll receive your CKC 6K launch kit in the mail in early 2019.
Step 2: Map a course. You can plan your 6K route in your own neighborhood, starting and ending at your church.
Step 3: Invite your congregation. In March (or earlier!), invite your congregation to walk the Global 6K. Registration is $50 per person ($25 for kids), which covers the cost to provide clean water for one person in DR Congo. Each individual on your team can fundraise beyond that by asking friends and family to give to their race. You can also invite your congregation to use the CKC Six Weeks to 6K Prayer Guide to prepare spiritually for your 6K, whether they do so individually, in small groups, or as a whole church. Order print copies or download the Prayer Guide at CovChurch.org/6K.
Step 4: Walk or run. On Saturday, May 4th, unite with your church and Covenanters across the denomination to walk 6 km and pray for our sisters and brothers in DR Congo.
Step 5: Celebrate! The next day, May 5th, host a Celebration Sunday at your church to thank everyone who participated and celebrate the impact made. Share stories about your team's experience, update your church on the work of Covenant Kids Congo, and give everyone the opportunity to sponsor a child. Be sure to order sponsorship folders and set up a sponsorship table! If you haven't already, sign up for Celebration Sunday.
The Impact in Congo: Clean Water & Kids Sponsored
Right now, 1,000 children are waiting to be sponsored through CKC in the Global 6K this year! Our goal is to get all 1,000 kids sponsored. When you sponsor a child through CKC, your donations are pooled for the long-term community development of the entire city of Gemena in the Ledia Area Development Program of northwest DR Congo. Your generosity contributes to life-transforming resources like clean water, education, nutrition, healthcare, and economic development for the whole community. While exact data isn't available, best estimates reflect that for every child sponsored through CKC, 8-10 children in the community will also benefit. With your generous gift of $40/month, many kids can thrive as their community strives toward a brighter future.
Meanwhile, your $50 registration for the Global 6K covers the cost to provide clean water to one person in DR Congo! Thank you for praying and walking alongside our friends in Congo.
The Impact in Your Church: Discipleship, Outreach & Community Building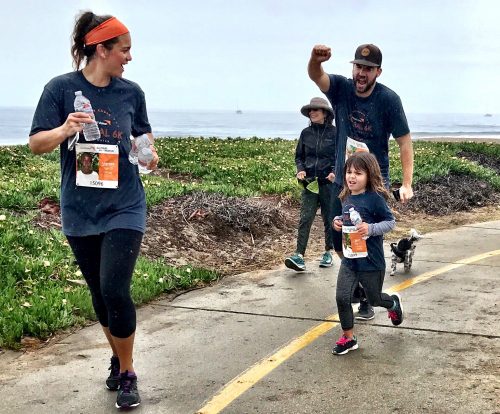 In the words of Greg Krieger, Senior Pastor of Rock Harbor Covenant in Rocklin, CA, the Global 6K is a "just add water event, which just added a lot of water!"
"Whether you do it or you get somebody within your congregation to lead it, it's a wonderful experience with a huge impact," Krieger said.
With the support of CKC and World Vision, the Global 6K is easy and fun to organize – and it can deeply impact your church and all who are involved. Because the Global 6K is more than just a walk. It's about leaving your comfort zone to come alongside our friends in the DR Congo, fundraising for clean water and partnering for a stronger and brighter future.
The Global 6K is a discipleship, outreach, and community building event for your church. Through the 6K, your congregation will gain a better understanding of what life is like in Congo and how to pray for and support the work of this partnership, while growing in their own faith walks. Use the Six Weeks to 6K Prayer Guide to engage your team in the weeks leading up to the 6K, and watch your congregation be transformed on this journey. Find the Prayer Guide and other 6K resources at CovChurch.org/6K.
"It's kind of audacious to think that we can make a difference in this region of the world on such a large scale," said Gary Gaddini, Senior Pastor of Peninsula Covenant Church, Redwood City, CA. "But when we do it together, God just puts his touch on it like he always does, and something supernatural happens."
Pastor Mark Krieger saw God working when Modesto Covenant Church did the Global 6K last year. Watch his video below to hear how the Global 6K became a discipleship and outreach event for the church.
Save the dates, May 4-5, 2019, and help reach the goal of 1,000 children sponsored through the Global 6K!
Sign up at WorldVision6K.org/ckc.
Sara Blomgren is an intern for Serve Globally. She recently graduated from Moody Bible Institute with a degree in Intercultural Ministries, and her home church is First Covenant Church in Rockford, Illinois.