By CKC Project Manager Cat Knarr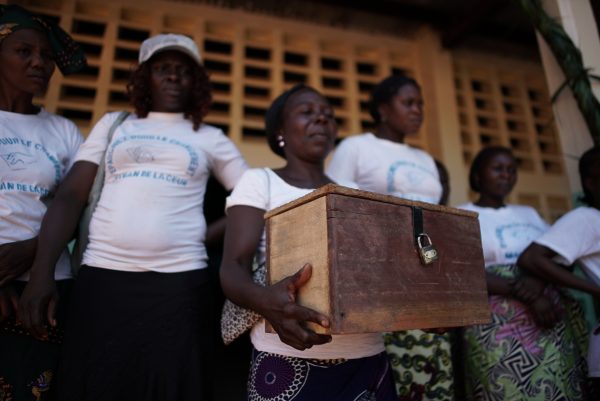 We have big news! A new bank with multiple branches will be opening up in Gemena, DR Congo as soon as later this year, with plans to lend to about 15,000 people over three years.
It will be the first time that thousands of people in Gemena, including the savings groups started through the Covenant Kids Congo partnership, will have access to a bank. While a few commercial banks and other financial services are present, these institutions tend to serve only a fraction of the population, and some services may charge very high interest. This new bank with VisionFund DRC will be the first of its kind in Gemena to operate as a microfinance institution to serve clients who are farmers and small business owners.
About the Microfinance Bank
The new bank in Gemena has been made possible through the amazing strides in community development over the past six years, supported by the Covenant Kids Congo partnership between World Vision, the Evangelical Covenant Church, and local churches including the Covenant Church of Congo (CEUM). VisionFund International, which is part of World Vision, is the world's largest Christian microfinance network, and the majority of its clients live in rural areas where there's little access to financial services. Also in partnership with VisionFund is Opportunity International, which is a part-owner of VisionFund DRC. Opportunity International has led the way in banking for under-resourced communities in DR Congo and works internationally to begin these kinds of services in the majority world.
In 2014, a VisionFund International and World Vision delegation came to Gemena to assess the operating environment, but only more recently has community development progress advanced to make this incredible venture possible.
Among the bank's clients will be entrepreneurs in local savings groups. There are about 180 savings groups in Gemena with 9,315 members total, of whom 90% are women. These savings groups typically store their funds in a wooden cash box with a padlock, like the one pictured above. Now, savings groups will have access to a secure bank. The bank will also provide microfinance loans for entrepreneurs to start small businesses and increase their income.
Vision for the Next Three Years
The Gemena bank will be pursuing the following three-year goals:
Lend to approximately 15,000 people
Lend to 75% women clients
Impact about 50,000 children through these families.
By employing market surveys, VisionFund DRC is identifying the products, appropriate clients, and most strategic locations in Gemena. Branches will be opened at these locations, with the goal of becoming sustainable and profitable within three years. Most of the program budget will be allocated for loan capital, which will be repaid and recirculated to continue serving clients for years down the road.
This microfinance bank will be a significant advancement for economic development in this region. Covenant Kids Congo celebrates that this bank will be launching thanks to local community development progress and your commitment to this partnership! Thank you so much for walking with our friends in Gemena, DR Congo.