Nilwona Nowlin currently serves as the Administrative Specialist for Governance for the ECC and is a member of the
Christian Community Development Association
and the
Redbud Writers Guild
. In her "spare time," she teaches workshops about living successfully as an introvert. Nilwona is a member of the
Kingdom Covenant Church (Chicago)
launch team and randomly blogs about random things at
thedreamerspeaks
.
I've been reading leadership books for years, but it was only recently that I realized something: none of the books I'd been reading were written by women. If I broadened my definition of a "leadership book," it might allow for the inclusion of a small handful of female authors. (And I haven't even bothered to raise the issue of ethnicity.) I am naturally quite observant, but sometimes – like in this case – it takes me a while to notice a pattern. In other cases, I miss the pattern altogether.
Last week, I participated in the ECC Sankofa Journey, and experienced quite an eye-opening surprise: both of our drivers were black women. It wasn't until I saw them that I realized I had never seen a female coach bus driver, let alone one who was a black female. (To add to our amazement, they were also sisters.) In all my experiences riding on a coach bus, I had never stopped to wonder whether or not there were women in this business. In my moment of giddy elation, I said to a friend, "You don't even realize what's not there until you see it!" As I reflected on this moment, it helped me understand why I was so excited about a book I recently read.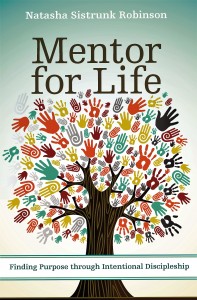 Mentor for Life: Finding Purpose through Intentional Discipleship explores the interrelated connection between mentoring and discipleship. The book's perspective was intriguing, but what was more remarkable was that it was written by a woman of color, Natasha Sistrunk Robinson. Now, I don't claim to be an expert in the areas of mentoring or discipleship, so I certainly haven't read every book on either subject. But coming across Mentor for Life caused me to reflect on the books I'd read in recent years. In doing this, it dawned on me that I hadn't seen discipleship books written by women – and certainly not women of color.
There are lots of articles, books and memes on leadership that suggest that individuals should regularly be in relationships as both a mentor and a mentee. Because I sometimes fall into the trap of believing that the source of my paycheck defines who I am, I often struggle with whether or not I have anything of value to share with a mentee. We often see mentoring as a "secular" thing, but Robinson describes it as an opportunity to "partner with God." This reframing of mentoring as discipleship helps me rethink things. While mentoring seems like a good thing to do, discipleship is a non-negotiable for Christians. In addition, Robinson focuses on mentoring in a communal setting vs. the typical 1-on-1 style. (I do think that the group model has become more popular in recent years.)
Since I've only recently experienced Robinson's book, I don't have any testimonials about how this method has worked for me. However, I'm excited about the opportunity to put into practice what I've learned. I'm particularly excited about the fact that I don't have to do a lot of contextualizing/translating, because Robinson has taken into consideration how issues of diversity (age, gender, ethnicity, culture, etc.) impact discipleship/mentoring efforts. If you'd like to know more about Robinson or Mentoring for Life, check out her website.