Mike Stelle
← back to Speaker Team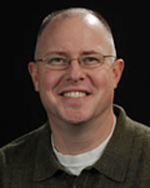 Info
Seminars: We're Here to Serve
Currently serving as: Associate Pastor for Youth and Young Adults for Harbor Covenant Church
Credentials: Ordination to Word and Sacrament in the Evangelical Covenant Church
URL: visit here
Bio
Spiritual journey: I prayed a version of the sinner's prayer multiple times during elementary school just to "make sure I was in". During those years my conversion had more to do with fire insurance than it did with a relationship with God. All of that changed in Jr. High during a Spring Break Retreat with my youth group. On that retreat I was overwhelmed by the reality that God loved me more than I had ever dared to imagine. In response to that love I committed myself to living in relationship with God and to serve him all the days of my life.
Call to ministry: I never wanted to be a pastor. In fact I wanted to be a high school history teacher and a basketball coach and to serve God in that capacity. While in college (after studying the book of Jonah with InterVarsity Christian Fellowship) I made a deal with God…if He wanted me in ministry as a profession I would go but I wasn't going to "knock on any doors" but if He opened a door I would step through. Soon after I accepted the call to be a Jr. High intern at a church in Ventura, CA. The group experienced tremendous growth and the church soon made my position a full-time position. 20 years later I am still working with young people and loving every minute of it!
I am passionate about: Seeing the light go on behind a person's eyes! Those moments where an individual begins to realize that God loves them just the way they are and not how they should be…when young people see the story of God come alive and begin to understand that they are part of the story.
How long have you been involved in ministry? I have been in ministry since 1990 (1 year at Hope Community Church in Sacramento, CA; 7 years at Community Presbyterian Church in Ventura, CA; 13 years at Harbor Covenant Church in Gig Harbor, WA)
What do you think is important that we know about you, as a member of the Speaker Team? My goal as a speaker is not to be the "main attraction" but to set up the counselors to have significant conversations with the students. I have been told that I am a good story teller and I make the Bible come alive…I'm just try to celebrate the mystery that God does not need me but has chosen to use me despite me.