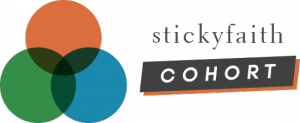 Through our Sticky Faith research we learned that 40-50% of youth group graduates—like those at your church—walk away from faith and church after high school. As a result of six years of research, we launched a national movement to change these statistics.
As Sticky Faith has taken flight, we've heard repeatedly from parents, youth pastors, denominational representatives, and national youth ministry leaders that this research has the potential to reshape local ministries as well as the field of youth ministry nationally. In fact, we think it's changing the whole church.
In response, FYI created the Sticky Faith Cohort, a dynamic learning group process where innovative churches commit to take the research and apply it to their settings.
This month we are excited to announce that you can now join our sixth Sticky Faith Cohort, a yearlong coaching journey with FYI and your team. This cohort is slated to begin in January 2015, and you can get in on it NOW.
Here's why you should join now: The yearlong package (including two summits, monthly webinars, and coaching) is a value of $4,000. Because this is a hefty financial commitment, we want to make it as easy as possible for you to join us. If you sign up for the 2015 Sticky Faith Cohort by August 1, you will receive our SUPER Early Bird Special: 20% off the total Cohort cost. That means an $800 savings!