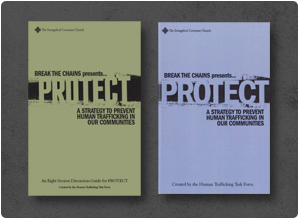 by Adam Butler
The ECC PROTECT Resource is an exciting way for church leaders to help their congregations be informed and active in the fight against human trafficking.
The ECC Human Trafficking Task Force developed PROTECT and a companion presentation guide to help people understand the biblical basis for engagement as well as the many ways that people can prevent and fight human trafficking in their communities and in the world.
I have used chapters of the resource as the basis for sermons and great conversations.  People are eager to be involved when they become aware.  I recently used the Responsible Consumerism chapter as the basis for a sermon and the response was tremendous.  In my experience, most people who are just learning about human trafficking don't know where to begin in the fight against it.  PROTECT was designed to help those people who want to help but need a place to start. There are many ways you can use this resource in your local setting: It can be used in a classroom format or to spark discussion in small groups.
The resource can be downloaded free http://www.covchurch.org/trafficking/protect-booklet/
If you have any questions please let me know.
Adam Butler
Associate Pastor of Discipleship
Columbia Grove Covenant Church
Wenatchee, WA