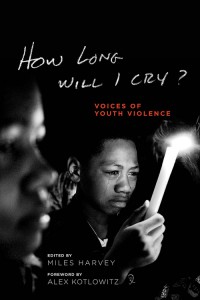 I'm also cautious of the dudes who hang on the corner… But I can't snap on them like that because I don't know what they got. Plus I get kind of scared when I tell them no because I don't want them to start looking for me.
This is just a small glimpse into an extraordinary and eye-opening book called How Long Will I Cry?: Voices of Youth Violence.
I loved this book. I don't know if it helps you or anyone to delay that assessment, so I won't.
In 2011 and 2012, while more than 900 people were being murdered on the streets of Chicago. Miles Harvey and his students from DePaul University collected oral narratives from people who have experienced the tragic consequences of violence on streets of Chicago. They fanned out all over the city interviewing people whose lives have been changed forever by the bloodshed. Their ability to report on the experiences of Chicago's youth, offer us vivid portraits that are profoundly humane. That said, the people chosen in this book challenge the mainstream in such a dramatic way. In their own words, the stories inside are at turns harrowing, heartbreaking, and full of hope.
To learn more, click here!