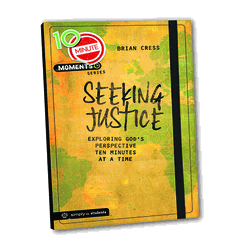 This is a great new resource by Brian Cress of International Justice Mission in Washington, D.C.
10-Minute Moments: Seeking Justice will give you a biblical foundation for making a lasting, life-changing difference in this world. You'll discover how God loves justice, and you'll discover how you can honor God through involvement in social justice issues. You'll also encounter stories from the life of author Brian Cress—director of student mobilization for International Justice Mission—and from the lives of other teenagers and people who've been rescued by IJM.
This 31-day devotional is set up as a journal. Each day, you'll read a Scripture dealing with God's heart and passion for justice, chew on a few thought-provoking questions, consider simple action steps, and then pray a simple prayer to close the reading. It's a one-month plan that's easy to read and easy to stick with.
Written in partnership with International Justice Mission, 10-Minute Moments: Seeking Justice will help you explore what the Bible says about social justice in our world today—and how you can make a meaningful impact in other people's lives!
Happy Reading! 🙂