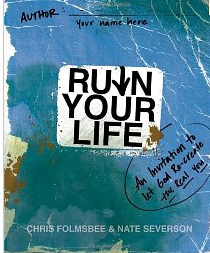 Ruin Your LIfe: An Invitation to Let God Re-Create the Real You
is a creative, interactive devotional for teens. Written by Chris Folmsbee and Covenant pastor Nate Severson,
Ruin Your Life
will inspire middle school and high school students to really dig in and interact with God in unconventional ways.
One example of the unconventional is a prompt to use mud or dirt to mess up a page, and then you trace your name in the mess. After doing this you are asked to reflect on the following: "Consider all the messy things in your life. How does God call out your name amid the clutter?"
I love the creative aspect of actually getting messy, being encouraged to be expressive, and challenged with powerful reflection questions. Not only will students get a lot out of this, but youth leaders can, too. With a co-learner edition available, youth workers and students can share in the process of "ruining their lives for Christ."
Have any of you checked out this devo? Are any of your students currently reading? What do you think? I would love to hear your thoughts!