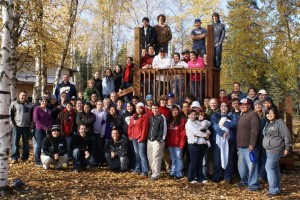 In 2005 I went to Alaska for the first time. The plan was to serve at the Bible Camp for the month of June while I waited to hear back about internships I had applied for prior to graduating from North Park University.
My determination to go and serve was really the result of a challenged posed to me by my close friend (and former roommate at Covenant Bible College Ecuador) who is from the village of Unalakleet where the camp is located. She said that I wouldn't be able to "hack it" at her camp, that she loved so very much. I'm not quite sure any longer what I said, but basically it came down to "sure, see you there!".
This month turned in to two years of service, one with Covenant Youth of Alaska (CYAK) and a second with Amundsen Educational Center (AEC). Two years of great learning about myself, God, creation, and cross-cultural ministry. I love the people of Alaska and make it a point to return each year. As it states on the CYAK website:
"Covenant Youth of Alaska works to reach, disciple, and develop Native youth and young adults in Alaska. Part of understanding CYAK's mission, vision, and values, and what we do, involves understanding the context in which our ministry is working.

The Context: Alaska is BIG! Its so big, that every man, woman and child in America could have one acre of land, and there still would be 800,000 acres of wilderness remaining! If you superimpose a map of Alaska over the lower 48 states, Alaska would reach from the East to the West. Though Alaska is extremely vast, its population is only approximately 660,000. Of that, a large number of its people live in rural villages which can only be accessed by plane, boat or snowmachine.

The Crisis: Currently, Alaska Native youth have the highest rates of suicide, teen pregnancy and sexual abuse in the country. The United Nations considers the death by violent accident rate equivalent to a war zone. Because of Alaska's remote geographical location, the struggles of Alaska Native people groups are not on the national radar.

Our Response: In 1992, CYAK was formed  in response to this crisis through the Evangelical Covenant Church of Alaska (ECCAK). Today, CYAK works in collaboration with churches and ministries for the cause of ministry to young people in Alaska."
Please read the article recently published on the Covenant Newswire and pray for them May 1…and 2, and 3, and 4, and so on.