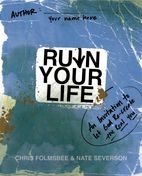 May I suggest Ruin Your Life: An Invitation to Let God Re-create the Real You by Chris Folmsbee and our own Nate Severson (Hillcrest Covenant, KS).
Synopsis from the publisher: "Everyone knows that in order to build something beautiful, sometimes you first have to tear something down. Through creative and unconventional prompts, this interactive devotional—Ruin Your Life—will teach and inspire middle and high school students to dig in, get messy, and let God ruin their lives in order to become the ultimate masterpieces they were meant to be.   Click for product description and details"
The book is available now!