The Journey, the relational and transformational discipleship and confirmation curriculum of the Evangelical Covenant Church, is being produced as an audiobook!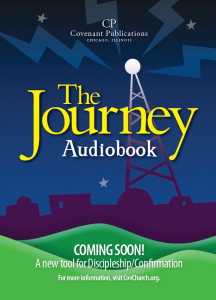 This new resource, which will be included with purchase of the student journals, will increase the accessibility of this material for students and mentors alike. It can be used to:
Support students who are auditory learners by allowing them to listen, or listen while they read
Support students with learning disabilities or visual impairments
Provide a daily devotional for students or other members of the congregation
Allow parents and mentors to keep pace with what their student is studying
The Old and New Testament audiobooks will be packaged with student journals and parent/mentor guides soon. The price of both journals will remain $12.95. For more information, visit CovChurch.org or the Covenant Bookstore.
Read more about the development of The Journey Audiobook on the Christian Formation Blog.