Friends, change and transition are part of our daily experience. Many times things happen and the resulting change is minimal. Other times the changes that take place are unexpected and a ripple effect on other aspects of our lives including  family, friends, and the future are impacted to where much must be adapted in order to take the next step.
Last November, Chuck Frasier passed away suddenly leaving many in shock and a vacancy in the leadership of Covenant Point Bible Camp where he had served as the Executive Director for 26 years. Upon his passing, the Harbor Point Ministries Board called together a search committee.
I'd like to share some great news with you! After months of seeking out who might be the next leader at Covenant Point, a candidate was unanimously approved by the search committee. Erik Strom, a youth ministry colleague of ours, has accepted the position of Executive Director for Covenant Point.

As the busy summer months are upon us and with a great deal of transition underway for many please pray for:
The Strom family (Erik, wife Courtney, and their three sons),
The Covenant Point family (those who work there year round and throughout the summer months, and those who have been and will be attending camps and retreats at Covenant Point this summer), as well as
The continued ministry of Winnetka Covenant Church (where Strom has served as youth Pastor since 2007)
For more information, contact Bob Olson (Chair, HPM Board) by phone: (847)571-5185 or email:olson.bb@comcast.net
Continue reading for the email sent to those in the Central Conference earlier today.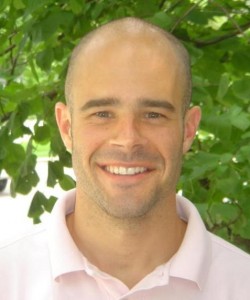 The Rev. Erik Strom has been selected as executive director of Covenant Point Bible Camp in Iron River, Michigan. The Harbor Point Ministries Board, with the approval of the Central Conference Executive Board, unanimously approved Strom's appointment in meetings May 31 and June 2. Strom begins his duties Aug. 15, 2011. Currently, he is the youth pastor at Winnetka Covenant Church, where he has served since 2007.
"Erik will be a strong leader for Covenant Point," said Beth Fredrickson, chair of the search committee. "He has a tremendous passion for the camp's ministry and a deep desire to honor the past while embracing the future."
The need for an executive director at Covenant Point was the result of the sudden death last November of Chuck Frasier, who had been at the helm of the camp for 26 years. Shortly after his death, the board appointed the search committee.
Frasier's outstanding leadership developed the camp into a thriving, year-round ministry that serves thousands of youth and adults annually. Since Frasier's death, the Rev. Bill Fish, the camp's director of ministry, has served as the interim director. He worked closely with Frasier for 22 years.
"Bill was a true partner in ministry to Chuck, and provided the leadership the camp needed these past months," said Bob Olson, Harbor Point Ministries board chair. "We are all so grateful for his service and his commitment to the camp."
Strom brings years of camping experience to the position. A native of Clarendon Hills, IL, where he grew up in the Hinsdale Covenant Church, he attended Covenant Harbor as a boy. He began working at Covenant Point while in high school. He's spent many summers on staff, including three as the island director. He also participated in the Point's internship program, serving 18 months in that role and learning many aspects of the camp's operation.
Strom earned a B.A. in Biblical and Theological Studies, and in Business Administration, from North Park University, a Master of Divinity from North Park Theological Seminary and a Master of Nonprofit Administration from the School of Business and Nonprofit Management at North Park.
The search committee was impressed by Strom's clear call to the ministry of Covenant Point, his deep love for the camp, his seminary and business management training, and his leadership abilities.
"We committed our process to the Lord from the very beginning," said Fredrickson. "We felt his leading as we conducted more than 50 interviews with the camp's stakeholders around the conference, as we drafted a description for a position that had been ably filled for 26 years, and as we reviewed each of the applicants – 35 in all. That process very clearly led us to Erik."
Strom's wife, Courtney, has worked at Covenant Point as an assistant cook and a full-time intern. They have three young sons, Caleb, Jackson and Emmett.
"Please pray for the Strom family as they move and make this transition," asked Olson. "And please continue to pray for Covenant Point's ministry, and the staff who so faithfully serve there."