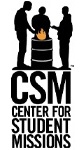 Come Serve Denver!
A city of more than 2.4 million residents and as beautiful as it can be! With that many people however, there are some within the community who have needs. For example, on any given night, there is an average of over 10,000 homeless men, women, and children within the Denver metro area with over 1,000 in need of a bed. Denver also has one of the largest street youth populations in the country, making up about 1500 young people between the ages of 14 and 24. In addition to the homeless and bedless within the area, Denver's youth also face daily challenges. Within the Denver Public School system, only 46.8% of students graduate on time and many drop out altogether. The issues of teenage pregnancy and gang membership runs high within the community as well. These are only some of the difficulties that Denverites face and the Center for Student Missions is blessed to be able to serve those facing these difficulties.
WHAT WE OFFER:* Mission Trips: 24 hour, weekend, and weeklong
* Full time paid internships for college age students
* Year long Apprenticeship program
* Housing at a ministry
* Local ethnic restaurant experiences
* Volunteer experiences with two different ministries or organizations per day
* The opportunity to work with: refugees, Denver's street youth, elderly, children, disabled, homeless…etc.
* Education around populations with needs in the city
* Living out Christian calling of service and love
* Breaking stereotypes
* ….and SO much more!…..
Here at CSM Denver, we want to show you God's heart for the city. Please join us in our efforts to partner with over 25 ministries and organizations who are responding to the call of loving thy neighbor.  Sign your group up today!