On Oct. 30th Helen began teaching English to the first class of medical students at the Ubangi Protestant University.  She has 78 students, divided into 2 classes, who have an hour and a half of basic English, 3 mornings a week.  The focus is on English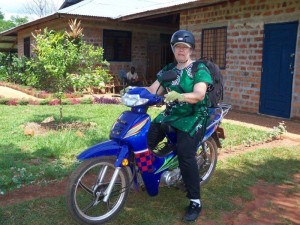 reading skills so the students may be able to read medical books donated to the university library.
Funds from Covenant women in the U.S. have enabled Helen to purchase a little motorbike to manoeuver the 7 mile roundtrip from home to school over some pretty bad road.  Thank YOU, Ladies!