In early May the entire Congo Resident Missionary Team welcomed Christine Buettgen and met with new CEUM President Jules MBOKA and new CEUM Vice-President Jacques VUNGBO.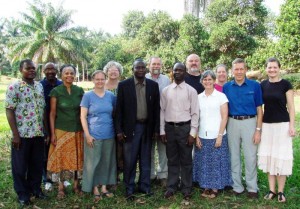 In Photo left to right:  Rev. MBEWA (Director of Administrative Cabinet), Rev. David Williams (Pastoral Ministries-Karawa), Debbie Williams (Women's Ministries and Printing of LIterature-Karawa), Marta Klein (Pediatrics and Nutrition-Karawa Hospital), Sheryl Noren (Pharmacy and Nutrition-Karawa Hospital), Pres. MBOKA, Paul Noren (Agriculture Development-Karawa), Vice-President VUNGBO, Tim Smith (Christian Education-Gemena), Cindy Ekstrand (Medical Development and Women's Ministries-Gemena), Helen Smith (General Education-Gemena), Pete Ekstrand (Counselor to the President-Gemena), and Christine Buettgen (Development for Women's Ministries-Karawa)
Note:  Rev. Keith Gustafson resides in Lynnwood, WA, but joins the resident missionary team in D.R. Congo 3 or 4 times a year.   As Team Leader and Field Coordinator he brings years of expertise and vital skills to the team during key periods of ministry.  Often, but not always, these are periods that involve hosting and interpreting for guests.