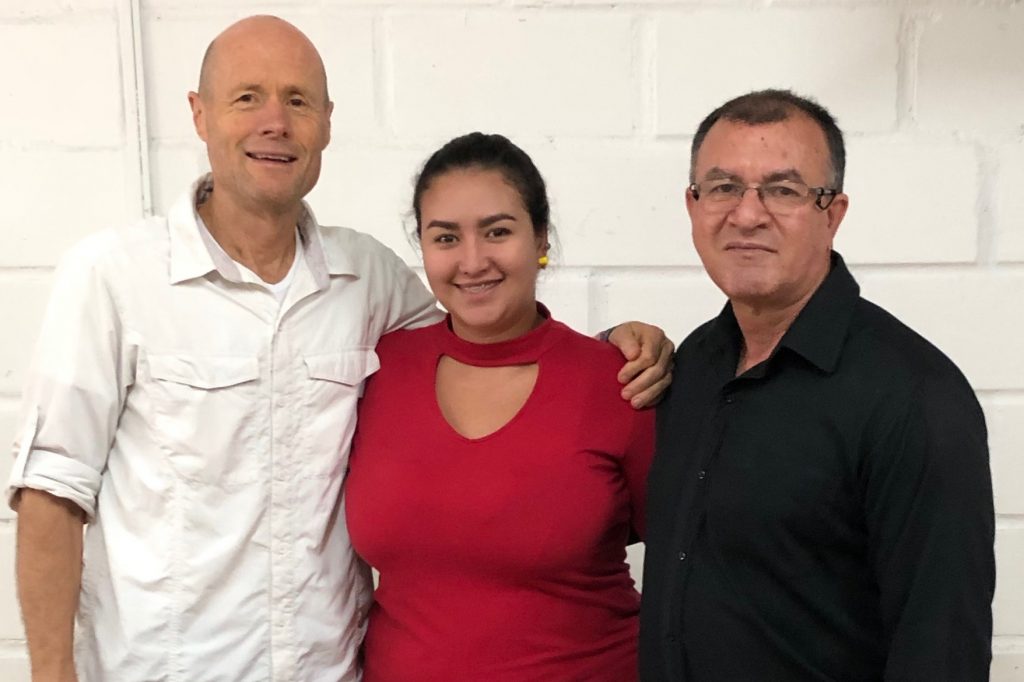 Gary got to go "home" recently. You may not think that Gary attending a church service at the Manantial de Vida (Spring of Life) Church would be a going "home", but that's what took place. Twenty-five years ago, the Lord God used the Manantial Church as a "spring of life" for Gary in unexpected ways. Here's the story.
Gary had been traveling from Bogotá to Medellín each month to accompany the Pacto pastors in their ministries and lives. Pastor Ibrando had spoken with Gary and asked him if he could come by and take a picture of his newborn daughter, Alexandra. So, early on a Wednesday morning, Gary got off of a city bus to walk to the Manantial Church and take the picture. Only Gary never got to take the picture. On his brief path to the Church, two armed young men stopped Gary and asked him what he was doing on the street. (These two young men were hiding from the police and erroneously thought that Gary might be a part of a special police force looking for them.) They were carefully monitoring everyone who was on this street. Gary eluded the young men and kept on to the Church, calling out for Pastor Ibrando. After Ibrando came out into the street and blocked the young men, Gary entered the Church building. The young men, by threatening Ibrando, went in after Gary, robbing him of his camera. And then they left.
The Lord God used the trauma that Gary experienced that day as a spring into new life, into a process for Gary to follow him on a path of healing, forgiveness, transformation, discipleship and learning that continues to this day. The Lord God has worked through many people and other incidents in Gary's life, too many to mention here, leading him and accompanying him on a path toward wholeness. As Gary worshipped with his "family" in the Manantial de Vida Church, he thought upon the Lord God's faithfulness in drawing him closer to him, continually calling him and patiently holding him through these years. Although Gary and Alexandra have had occasions to see each over these years, they never had a picture taken until now. How joyous to be home.
"Not that I have already obtained this or am already perfect, but I press on to make it my own, because Christ Jesus has made me his own. . . . forgetting what lies behind and straining forward to what lies ahead, I press on toward the goal for the prize of the upward call of God in Christ Jesus (Philippians 3:12-14).