The Colombia Covenant Women Hands with Hope Ministry, which began in 2004, continues with its focus on helping needy women learn artisan crafts and vocational skills to better their lives and that of their families.  Recent happenings are moving this ministry into new areas of growth, challenge and giving hope through opportunities to others and —- HERE IS THE GOOD NEWS:
The FOWM (Friends of World Mission) #211 Project – Giving Hope Through Opportunities Center is the next step for the Hands with Hope Ministry to find and purchase their own place in Medellín. The hope is to raise $40,000.00 through this FOWM appeal. Check out the information on the ECC website online: http://www.covchurch.org/mission/fowm-211-new-opportunities-for-women-in-colombia/#more-7523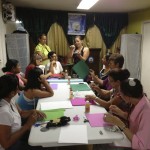 Hands with Hope Ministry will become a legal Foundation, which helps the ministry and others to take seriously what the ministry is doing and opens doors to new areas of giving hope. This hope happens as the women come together not only to learn skills, but to be encouraged to address and begin to heal deeper emotional wounds that often are a result of their broken home lives and dysfunctional relationships, domestic violence, and poor self-esteem. Some women discover that they believe the lies that say i.e. 'I can never change', 'once poor, I will always be poor', 'I don't deserve anything better than what I have', 'once working in prostitution or falling into drugs, my fate is sealed'.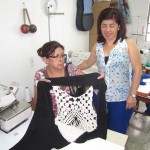 Beatriz Muñoz, a long time member of the Covenant and a woman blessed with the spiritual gift of service has been using her sewing and artistic abilities with "Hands With Hope" since the beginning. She creates and sews beautiful purses, cosmetic bags, cellphone cases, cellphone/wallet cases, pencil/pen pouches, aprons, and belts, all made out of mola cloth, which is a colorful and hand-made artwork of the Kuna Indians near the Panama/Colombia border. She will be teaching others this craft. In fact, she just returned from a mission trip to a rural area of Colombia sharing God´s love and healing as she and the 11 member team led in Bible studies, craft making, needed administrative skills, and times with children and Sunday School teachers.
       Hands With Hope has been a great blessing in Beatriz' life because it has given her the opportunity to serve using her talents and gifts.  Her faith has grown through the Word that has been shared in some of the workshops, seminars and meetings with the ministry team.  Selling the mola articles she makes has also been a great support financially for her family, as well as enabling her to attend the women's retreats.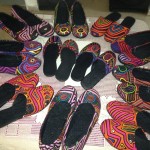 Now, a long time dream to make mola shoes is a reality!  Lovely shoes in different styles are being made and will be sold at the U.S. Covenant Women Triennial (along with other Hands with Hope products.) As Hands with Hope becomes a Foundation, many others in Colombia and in the USA will have opportunities to purchase these mola products and artwork made by the Hands with Hope.
Hands with Hope sewing machines are working, producing a profit for the working women and for the ministry, and getting ready to be used in "hands on" vocational classes. One part of the Hands with Hope vision is to offer vocational classes in various areas i.e. arts and crafts, hand-made artisan products, beautician skills, small business administration, and technical skills, using local Covenanters as teachers and consultants.
Three Hand with Hope leaders will travel to Oaxaca, Mexico in the Fall to learn more about the Foundation Fuentes Libres, and how their community banks have helped hundreds of Mexican women to set up their own small businesses. Hands with Hope plans to offer small business loans to those who complete the training in the Center in order to begin their own business.
Praise God for the Friends of World Mission Project #211 (link above) that has been approved and that will go to support a ministry here that focuses on training and equipping women in the areas like sewing and small business, allowing them to provide a better life for their families.