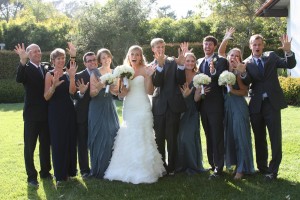 Once again we have returned to Colombia within days after one of our children celebrated their marriage to a wonderful spouse. Each of those return trips has included some emotions of missing our children and our time together with family and friends because we have so much enjoyed the celebratory reason for being together and some emotions of wanting to get back to Colombia. This time we were also returning after spending 110 days visiting our ministry partners and other Mission related work and events in the U.S. So, last Thursday we landed in Medellin after the fourth, and final, marriage of one of our children, that of our daughter, Leah, to Daniel. We are now a family of ten members (thus the picture above with ten fingers displayed by everyone). We knew that some day this would be the case and we are glad that this day has arrived.
Previously, however, when we returned to Colombia from the other three wedding trips, our entire Mission staff picked us up at the airport – Cathy Campobello. For eight years our Long term Mission staff was just three of us – Mary Lou, Gary and Cathy. For one year we enjoyed the presence and ministry of the Bud Locke family with us in Medellin. And this time when we returned, we returned to a staff of eight! What a difference to return to Colombia and call a meeting of our Mission staff and see a houseful of people present – so many, in fact, that we had to get out a folding chair to accommodate everyone. What joy to hear updates of all that had been going on in our absence. How impressive to hear how the others had so adequately covered our responsibilities (Gary suggested that they keep fulfilling his responsibilities so that he could go on and do other ministry, but they didn't like his suggestion so much.) What fun to know that fitting in to the ministry going on within the Covenant of Colombia will mean that we need to "catch up" and "get ourselves up to date" with all that six missionaries and hundreds of Colombian Covenanters have been up to following God's leading and direction.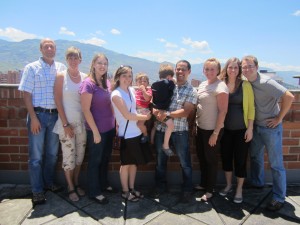 So today, a week after landing, we are planning our next few months' schedule with work and mission teams coming to partner with us; church planting seminars; national level board meetings; local ministry opportunities; and catching up with our Colombian Covenant ministry friends and partners. Our days have been full and full – full of getting acclimated to the rhythm of life here and full of reliving memories of our 110 days that we just spent in the U.S.