We praise God that Gary was able to attend the Covenant World Relief Associate meetings held in Chicago in October.  The Colombia Covenant and Covenant World Relief have many projects that they have worked on together and that they are working on currently.  This partnership is vital for ministry in reaching the communities where the Covenant is located in Colombia and we pray for further development and growth of this partnership.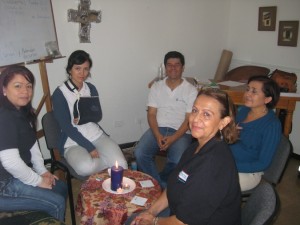 Pray for Yvonne DeVaughn, the Director of AVA: Advocacy for Victims of Abuse, her husband, William, and Teresa Hillis, as they will come to Colombia on November 14-21, to teach 40 people/coaches.  These coaches (some of whom are pictured here) are being trained to be AVA advocates on behalf of those who have been hurt and shamed because of abuse, and to share these teachings in their churches, in their homes and in their communities.  Pray for this international partnership as it moves forward.
Praise God for the good gatherings of the Colombia Covenant FIPEC Executive board and the Colombia Social Projects training and equipping workshop.  These were important gatherings as the Covenant moves forward in reaching the communities through the Churches and the community ministries and in their future planning and preparation for the next two years of ministry.  The Covenant of Colombia is preparing itself for some big events and possibilities and covets your prayers.
Praise God that Gary was able to spend a few hours with Covenant Project missionaries, Julio and Katie Isaza, who now have their visas in hand for their arrival in Colombia in the first days of January 2012.  As Gary and the Isaza's were sharing together, it was clear that God has been preparing this partnership in ministry for many years and we look forward to accompanying God as he puts this partnership into action in Colombia.