CHICAGO, IL (December 17, 2007) – New resource kits containing a variety of stewardship materials have been mailed to Evangelical Covenant churches, with a copy of the material added to the
Resources section
of the Evangelical Covenant Church (ECC) website.
"The kits contain the essential information for a church stewardship work team or a finance committee to get a fresh start on stewardship education in the local church," says Emily Ross who coordinated the project.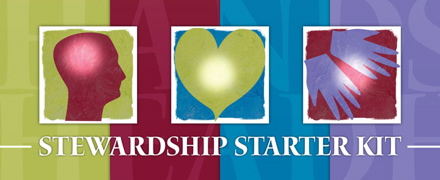 Materials in the kit include general financial information, useful software tools for accounting purposes, sample job descriptions, and sample policies for financial volunteers and staff.
A DVD is included in the kit, featuring six segments on matters from casting a fresh vision for local church ministry to an overview of "how to" suggestions on running a successful annual stewardship campaign. Additional materials will be sent to churches as they become available for inclusion in the kit.
"The desired outcome . . . is to acquaint church leaders with some fresh ideas on raising the banner of stewardship in the local church," says Bill Clark, ECC director of strategic giving and stewardship. "Most of our churches have the potential to do more for the Kingdom, but need increased giving to make it happen. Our goal in the starter kit is to make us all better and more generous stewards of God's gifts to us."
Some experts in the field of local church stewardship believe local church staff and congregational leaders may feel stymied when it comes to motivating more faithful stewardship. One observer suggests that a few churches – and perhaps some pastors – are uneasy addressing the matter of stewardship, concerned that talking about giving may "turn off" new people. Donors also may grow weary of responding to repeated appeals, the observer suggests.
"There are better ways to make an appeal – an appeal to the hearts and minds of God's people," Clark stresses. "The starter kit is but one simple tool to help churches institute appropriate financial procedures and bring fresh thinking to the process, informing congregations about the opportunities for ministry and the joy that healthy giving offers to the giver."
To access the online material, please visit Stewardship Kit.