FARMINGTON HILLS, MI (December 14, 2007) – Nearly 900 people participated in recent Santa Lucia festivities at Faith Covenant Church, one of dozens of Evangelical Covenant congregations that celebrate the traditional Swedish holiday.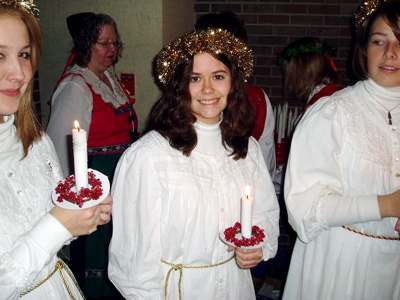 Four different high school senior girls took turns as Lucia during four breakfast celebrations. Although this was their first time as Lucia, they were "very seasoned veterans," says associate pastor Dennis Carlson. Several of the girls had participated in the pageantry since they were five years old as tomtarna (elves).
Not all had grown up with the tradition. People from more than a dozen nations attend the congregation, and one of the girls chosen to be Lucia was from Sierra Leone, Anderson says.
The Swedish festival is in honor of Lucia, who actually was Italian, and whose name means light. Lucia is said to have been beheaded in 304 A.D. during persecutions by the Roman Empire. Scandinavian tradition states that during a severe winter famine, Lucia was seen wearing a white robe and a halo as she brought in a ship full of food over Lake Vanern.
The celebration at the Farmington church began with the sanctuary being darkened. Lucia and her court of 10 other girls, all wearing candles in their hair, processed into the room to the sound of a distant oboe and refrains of the Lucia singers.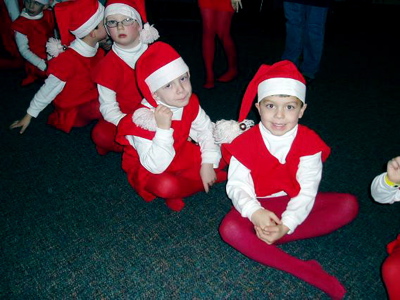 The singers performed 10 songs during the one-hour 20-minute program and recited scriptures that spoke of Christ as the light of the world. Younger children danced around the Christmas tree in the center. Middle-school girls were the Pepperkakor Girls (thin Swedish ginger cookies) who both sang and then passed out their sweet treats. Much of the program was accompanied by a six-piece instrumental ensemble, and the congregation's  hand bell choir also helped to ring in the Juletide season.
Food played an important role as well. Traditional fare such as Swedish sweet buns, cardimon bread, hard bread with ham and cheese, and Swedish fruit soup was served.
The church also set up a Christmas Shoppe that sold Swedish goods and food items as well as crafts from mission fields sponsored by the church. Proceeds from the Shoppe sales benefit Angel Tree, which provides gifts for children whose parents are incarcerated. All of the breakfast proceeds will help pay for the church's high school mission trip to the Dominican Republic at the end of June 2008.