NORQUAY, SK (December 13, 2007) – Kernels of Hope, a farming project led by members of the Evangelical Covenant Church in Canada, has raised approximately $270,000 to help the people of Liberia, says Ray Baloun, who led the effort.
The final total won't be known for several weeks, Baloun says. "We still have some details to go, but are just thrilled and excited with the projected outlook."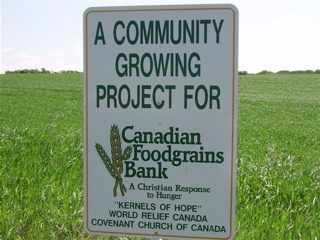 Kernels of Hope continues to grow dramatically. The project raised $69,000 in 2005, when it was started, and $190,000 last year.
Through the project, farmers set aside part of their land to be "purchased" by donors who pay the costs of rent, seed, chemicals, insurance, and custom work. The farmers donate their time. Donors from five provinces and three states contributed money this year, Baloun says.
The agricultural crop is eventually sold. The Canadian International Development Agency matches the grain sales revenue on a four-to-one ratio to reach the final donation amount. That money is then distributed to the intended recipients through the Canadian Food Grains Bank and World Relief Canada.
The money is used to purchase tools, food and seed to develop agricultural capacity in the recipient regions, Baloun says. The goal is to assist long-term sustainability in those communities.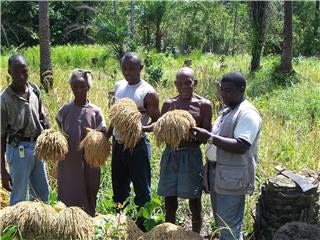 Some of the seed will actually go as seed in grain bags. "If you look at one of those seeds they are very, very tiny," Baloun says. "Just like the people who were contributing here to fill those bags, one person or one seed alone can't do much at all. When you put lots of those seeds together and put lots of people of compassion together, you can really begin to feed the world."
The amount raised also was helped by good prices, Baloun says. Slavek and Margaret Dasiuk of Saskatoon, Saskatchewan, grew 40 acres of durum wheat – used for pasta – and produced 2,330 bushels.
"This year, the price skyrocketed on that!" Baloun says. He calls the price of $9.95 per bushel "incredible, quite likely the highest price we have ever had in Canada."
Three other fields were planted:
•    Darren and Cheryl Tiede planted and harvested 40 acres of peas in Strathmore, Alberta, producing 2,123 bushels
•    In Hyas, Saskatchewan, Tim and Melissa Johnson grew 40 acres of red spring wheat
•    Jim and Bryan Sandstrom farmed 82 acres of wheat in Minnedosa, Manitoba – although the yield was low, dry weather also boosted the quality, which led to "a very good price"
"I am so humbled that we have been allowed the opportunity to make a difference in God's kingdom this way," says Baloun, adding, "We have begun to plan for the next harvest."