MCPHERSON, KS (December 13, 2007) – Several Evangelical Covenant churches were forced to cancel worship services on Sunday due to the winter storms that struck the Midwest earlier this week, but one youth group is using the weather as an opportunity to serve the community.
Among the churches to cancel services Sunday were Brookwood Covenant Church in Topeka, Kansas, and Countryside Covenant Church in McPherson.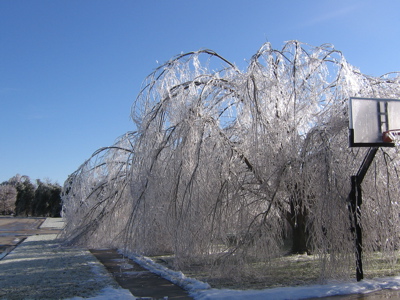 The storms knocked out power to more than one million homes and businesses across the Midwest and has been responsible for at least 24 deaths. Schools across the regions remained closed on Wednesday.
Rather than enjoying their day off from classes by staying inside, nine young people from the Countryside senior high group spent Wednesday clearing branches from the homes of senior adults, says Jon Black, the church's pastor. Heavy branches had fallen on top of roofs and vehicles as well as onto yards and streets. The accompanying photo of one neighborhood tree reflects a deceptively artistic image.
One of the students used his four-wheel drive pickup truck to remove a large branch that was blocking traffic on a main street. "It's hard work," Black says, quickly adding, "They were having a blast."
The teenagers, who were supervised by five adults, made numerous trips to the city dump to dispose of the branches. Some tree limbs, however, wound up as firewood for the youth pastor, who also spent the day helping clear the debris.
Black says it is hard to imagine the damage caused by the ice storm. "It looks like a tornado went through here."
Brookwood Covenant canceled worship for the third time this year due to inclement weather. Winter weather forced the cancellation in January, and flooding led to a cancellation in May.
The church sits on a hill, which makes traveling especially hazardous when ice covers the roads, Porter says. The church also has an older population.
Several of the Life Covenant Church campuses in Oklahoma lost power beginning Sunday evening, says marketing director Katie Moore. Power has been restored to the South Oklahoma City and Oklahoma City campuses. The Tulsa campus still has no electricity.
The Internet campus broadcast special services Sunday and Wednesday nights because so many people were unable to attend the physical campuses on Sunday. "Twelve people gave their lives to the Lord on Sunday," Moore says.