BELL GARDENS, CA (December 12, 2007) – Flor Graterol traveled from her native Venezuela to the United States in 1988 because she wanted to attend the Billy Graham/Luis Palau Hispanic Crusade in Los Angeles.
She never intended to stay in California. Nor did she ever imagine the journey upon which she was embarking and the people she would inspire through her story and work.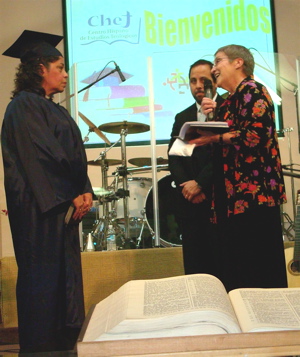 She was installed during Saturday's CHET graduation ceremonies as the new chaplain of CHET in Bell Gardens, where she received her first formal theological training and working through two levels of the school's programs. She is licensed through the Pacific Southwest Conference. The accompanying photo shows Graterol being installed by Evelyn M.R. Johnson, superintendent of the Pacific Southwest Conference of the Evangelical Covenant Church.
Graterol says of her installation that "It's like God is touching you on the shoulder and saying you are doing good."
Graterol was born and raised in Caracas, Venezuela, where her love of learning and serving others developed at an early age. "Like many Hispanic persons, I grew up in a Catholic home," Graterol says, adding that she also attended a Catholic boarding school. "Now, I can see how God has been working in my life, and how since my childhood, he started calling me to his service."
The devotion and commitment of the nuns inspired her to live a life for God in a way that would benefit others, Graterol says. They encouraged her as she earned her teaching credentials and then taught children in an elementary school. But she developed health issues and was forced to quit.
Graterol's father encouraged her to travel to England where she could pursue her love of learning English as well as graphic arts. From there she moved to Paris to study French. Along the way, however, as she traveled among the great cities of Europe, learning new languages and taking in experiences that many only dream about, Graterol's interest in walking with the Lord waned. The woman who could speak three languages, rarely spoke with God.
That conversation resumed in France, however, when Graterol met another Venezualen who invited her to a Bible study led by two American missionaries. As she  listened to them, she decided to receive Jesus as her Lord and Savior. What had once been head knowledge had become a matter of the heart, Graterol says.
But as Graterol was experiencing new beginnings in France, the economy in Venezuela worsened, making it impossible for her father to continue funding her education. She was forced to return home. Then she heard about the Los Angeles crusade that would change her life once again.
The words at the crusade and a friend's invitation to help her with a ministry led Graterol to decide to live in the United States. Graterol, who once taught elementary students, knew she was being called to teach the Bible to others so they might grow deeper in their relationships with God. But she would need the education herself.
She learned of CHET after meeting president Jorge Maldonado. Graterol completed the two-year, 30-unit Basic Program at CHET. She followed that experience by tutoring students in the same program for six years and completing the 90-unit ministerial program as well as a counseling program offered by the school.
In her new role as chaplain, Graterol will continue to mentor students. She is grateful for the opportunity, calling it "a very special and unique privilege." She also is excited to be able to minister at CHET because it is part of the Evangelical Covenant Church.
A founding member of the church plant core group of  El Encino Covenant Church, Graterol says, "I feel that there is no better place than the Evangelical Covenant Church to fill this call that is so deeply inside my heart."
Graterol became aware of the Covenant while a student at CHET and knew she had found a home. "I agree with the idea of forming and nurturing communities that are deeply committed to Jesus Christ, and I am passionately engaged in Christ's mission in the world," she explains. "I feel like this is my family, and I have no doubt that the ECC has opened the doors for me as a woman to develop my leadership potential and call."
She looks forward to developing that call as she continues to respond to the voice of God. "As the prophet Isaiah said, I want to say, 'Here I am Lord, send me.' "