CHICAGO, IL (December 7, 2007) – Eugenio Restrepo received an early Christmas present Tuesday – United States citizenship.
The Evangelical Covenant Church missionary to Spain was sworn in along with 103 others during a ceremony at the Federal Building in Chicago. More than 200 individuals were on hand to witness the event, which took place in a dignified federal courtroom located in the building.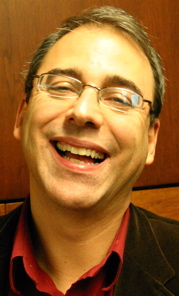 Citizenship means that Restrepo will join his wife, Pia, as an American citizen. She received her citizenship in February this year.
"It was a profound experience," says Baxter Swenson, who along with his wife, Margie, serve as co-directors of missionary personnel for the Department of World Mission and were on hand Tuesday to witness the ceremony. "I was reminded of the Ephesians text that talks about being 'no longer aliens or strangers,' " Swenson recalls.
To see additional photos from Tuesday's ceremony, visit Citizen at Last. The lower photo shows Restrepo with the representative of the Department of Immigration who administered the oath of citizenship.
Restrepo, who maintains dual citizenship with his native Colombia, says he wanted to become an American citizen because of his love for the country. "It will give me the privilege to vote and the opportunity to become more involved in the life of the United States," he says. Citizenship also will enable him to travel more easily between the United States and other countries.
He first came to the United States from Colombia in 1985 to study religion at the University of California-Berkley. While there, he started attending First Covenant Church in Oakland. He subsequently returned to Colombia as a short-term missionary for five years.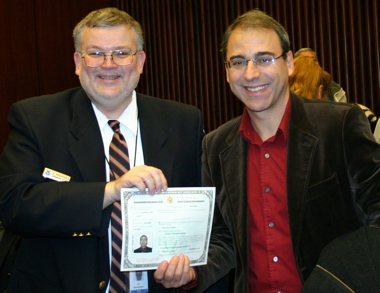 Restrepo has served in Spain with his wife, Pia, for nearly 11 years. She returned there from home assignment on August 31. He has remained in the United States to complete his two-year process for citizenship, which has included interviews as well as the test he took November 13.
To become a citizen, applicants must live in the United States for five years, but exceptions are made for military personnel and members of religious organizations. The time he has spent doing missionary work as well as his home assignments were counted toward that requirement.
Restrepo likens completing the process to a football play he saw while attending the November 25 game between the Chicago Bears and the Denver Broncos. In a play repeatedly highlighted on ESPN, the Bears running back, Adrian Peterson, was swarmed by the Broncos defense as he tried to cross the goal line, but his teammates pushed him forward to score a touchdown.
"That's when I thought, 'That's what I need – a push from God,' " Restrepo said, smiling. Three days later, he learned his citizenship had been approved.
Restrepo will leave December 11 to rejoin his family.