ORLANDO, FL (December 5, 2007) – Lucy Roberts hopes a new cookbook of recipes submitted by middle school students from different religious traditions will foster peacemaking.
Roberts, a member of Audubon Park Covenant Church and the Compassion, Mercy and Justice Leadership Team of the Evangelical Covenant Church, began dreaming of such a book several years ago.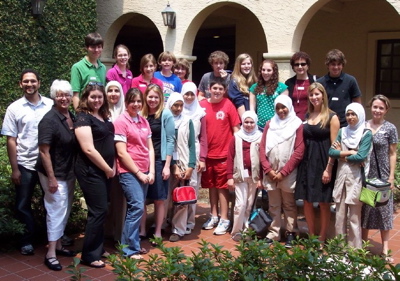 The dream became reality on Saturday, when the Multifaith Education Project held a reception here as it released Breaking Bread: A Celebration of Three Faiths. The project brings together Jewish, Muslim, and Christian students who attend three religious schools with the goal of helping the students understand one another and "to become peace ambassadors."
The dream began years ago. "After 9/11, I wanted to do something to bring people of different faiths together to promote dialogue, understanding and hopefully friendships," Roberts says. She seized upon the idea of a cookbook while living in California, where she was a member of University Covenant Church in Davis.
She learned that a Muslim friend was teaching a class on Middle Eastern cooking to non-Muslims, and Roberts proposed the idea for a multiethnic cookbook. Although the project never came to fruition, the friend made her promise that she would publish the book by the time Roberts turned 40 years of age.
This year marked that milestone. "In January I prayed, "Dear God, I am about to turn 40. You placed the idea for this book on my heart. If it is your will to make this book happen, please show me the way. Two weeks after my prayer, I met the director of the nonprofit Multifaith Education Project, and out of the blue she asked if I would help her create a cookbook by the children."
Many of the students had found it easier to bridge differences than some who "still struggle with anger and resentment."  In May, when 20 of the project's 100 students gathered to edit the book and design the back cover (accompanying photo), even those who had struggled were able to work easily with one another, Roberts says.
"The barriers that once existed break down because they have the project," she notes. They became so engrossed in the work, the adults overseeing the work had to make them stop to take a break. "When students have a special project to work on, they can really come together."
In addition to recipes, the book also includes stories and poems by the students that tell how the food relates to their faith. Others write to explain their respective traditions.
Roberts says it is important for people of the three different faiths to understand and work for peace with one another. "We are all children of Abraham," she adds. "You can focus on what unites you or what your differences are."
Acknowledging and working with the differences is equally important, Roberts says. The rules guiding what could and could not be used in the recipes gave the students the opportunity to do just that. Out of respect for the faith traditions, none of the recipes could include pork, shellfish, or alcohol.
Roberts does not have a culinary background other than the cooking she does at home. She says her background in international and multiethnic studies, as well as having taught middle school, helped her pull the project together.
She acknowledges that peacemaking is sometimes tough even for her, but adds, "You have to be prayerful that your heart is bigger than the chip on your shoulder."
Roberts emphasizes that the cookbook is for adults as well as children.
For more information, contact the project at P.O. Box 301003, Fern Park, FL, 32730-1003.