CHICAGO, IL (November 30, 2007) – North Park University students walked by 300 photographs of orphans who lost their parents to AIDS, but campus organizers of World AIDS Week hope the photographs will cause people to stop and think how they can fight the pandemic.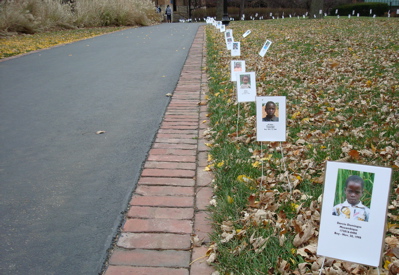 The photographs are mounted on stakes and line the pathways across the campus. They were set up Tuesday night and will remain through Saturday, says Julia Styles Hastie, coordinator of Global Partnerships with University Ministries (UMin). People can use information from the photographs to go online and sponsor a child, she adds.
The photographs have been part of an ongoing week of events leading up to World AIDS Day, which was being observed around the world today (Friday). North Park, along with 150 college campuses around the country, is holding special activities in partnership with World Vision's 6,000 Reasons campaign. The campaign is so named because 6,000 children around the world are orphaned due to AIDS each day, according to the organization.
At North Park, a prayer vigil was held Tuesday night. Students wore red on Wednesday and watched the movie Miss HIV. A dialogue session is scheduled for this evening.
Staff and students were encouraged to wear red noses today – yes, red noses. Junior Dan Johnson borrowed an idea from a fundraising and awareness campaign sponsored by Comic Relief in England.
"We're willing to act foolishly so people would take AIDS seriously," Styles Hastie says. Campus organizers hoped at least 1,000 people would participate.
A number of students also have signed up to participate in the World Vision 6,000 steps walk in Chicago on Friday. They were to be joined by people from around the city.
For more information on the North Park activities, visit the UMin website.