LAKE GENEVA, WI (November 29, 2007) – Covenant Harbor Bible Camp and Retreat Center will offer its first-ever camp for people with special physical needs and their families next summer. THRIVE will be conducted July 16-18, 2008.
In past years, Covenant Harbor has offered camps for people who live in the Covenant Enabling Residences (CER), but this will be the first event that also serves individuals not living in one of the homes as well as their families, says Eric Anderson, associate director. The camp has worked with Bjorklund House in Oak Forest, Illinois; Our Place in Duluth, Minnesota; and Mary's House and Joseph's House in Muskegon, Michigan.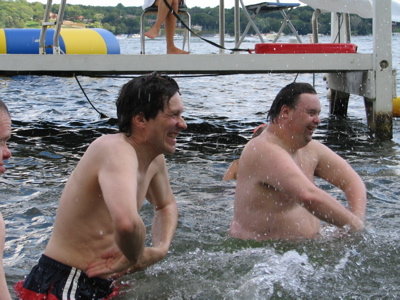 "It has been such a meaningful experience for the (CER) clients and staff,"  Anderson says. "It's something our staff gets really excited about. It is such a blessing for our staff."
The idea for the new camping experience "has been driven by the needs we're hearing from families," Anderson says. "For people not in a group home setting, it can be very draining for the family."
Time will be set aside for trained staff and volunteers to care for special needs campers.
"We hope this can be a chance for the siblings to get away and for parents to get a break," Anderson says.
As with previous special needs camps, all participants will be able to take part in traditional activities that include boat rides, obstacle courses, and swimming, as well as worship and campfires.
Representatives from different advocacy groups also will be at the family camp to raise awareness concerning the availability of resources, Anderson says. "There are so many families that don't know what options there are for kids."
To help with the event, the camp is looking for volunteers with different levels of experience in working with special needs individuals. "We'll match people with the experience they have," Anderson says.
People also can contribute to an existing scholarship fund to defray the extra costs. Checks can be mailed to the camp at 1724 Main Street, Lake Geneva, WI, 53147. Donors should note on the check that it is for the scholarship fund.
Anderson says he looks forward to holding similar camps for years to come, adding, "This is a first step in creating a more expansive program."
For more information visit the THRIVE website or call Cherith Anderson, assistant director of adult education, at 262-248-3600. Volunteers also may call Anderson.