TABASCO, MEXICO (November 20, 2007) – One of the worst natural disasters in Mexico's history provides a backdrop for yet another Covenant connection – one member of the El Dorado Covenant Church in the Mexico City area who is working with those engaged in relief efforts, with two former short-term missionaries similarly involved.
Flooding late last week inundated nearly 70 percent of the state of Tabasco in southern Mexico, forcing more than 900,000 people to flee this coastal region. Most public services, including transportation and the water supply system, were shut down or destroyed.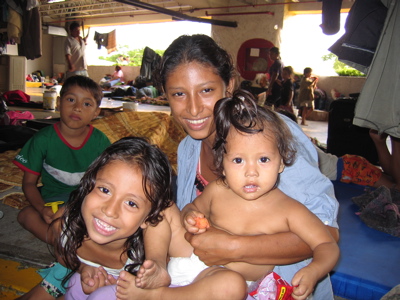 "This is not just the worst natural catastrophe in the state's history but, I would venture to say, one of the worst in the recent history of the country," President Felipe Calderon was quoted as saying in a special CBS News report as he met with state officials in Villahermosa.
Alberto Sotres, a member of the El Dorado church, serves as national director of Unión Bíblica (Bible Union) of Mexico, which is involved in the relief efforts.
"With much sadness I am writing to inform . . . what is happening in the Southern region of Mexico in areas where many Christians live," Sotres writes in a ministry update. "Last week, the population of the states of Tabasco and Chiapas were informed that heavy rains were coming with high possibilities of serious flooding. Because of the frequency with which these communities experience heavy rains, they didn't pay much attention to what might happen.
"The rain came and the rivers began to grow until the rural communities, urban areas and cities completely filled with water," Sotres continues. "And then last Wednesday, it became a true disaster. The army, navy, civil protection, the Red Cross and the population in general have donated food, clothing, blankets, personal hygiene items and money to assist the one million people who have been forced from their homes."
Sotres says that on Sunday, one community in Chiapas survived what he calls a "tsunami of mud" when an entire mountainside gave way and buried the town's 100 families in 50 meters of mud. "Because of God's mercy, only 10 perished, but approximately 80 more have disappeared."
Union Biblica of Mexico is working with UNICEF and others to collect and distribute relief supplies – some 20 tons of supplies were expected to be delivered sometime this week. A Mexico City area work team was planning a trip to Tabasco to work with children in several shelters.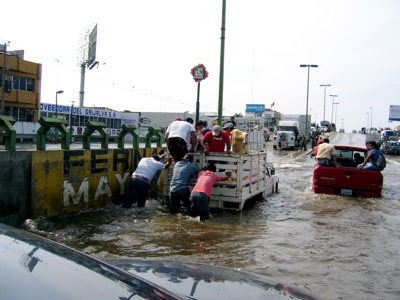 Two other Covenanters – both former short-term missionaries – also have been involved in relief efforts, working through Manos de Vida (Mexico Medical Teams International) in Oaxaca and its parent organization, Northwest Medical Teams International located in Portland, Oregon. Relief efforts include medical teams, medicines, food items, drinking water and other supplies, including cooking utensils.
"I'm here in Tabasco on a disaster assessment team evaluating the needs in order to plan a response by our organization," writes Chuck Perez in an update shared with Covenant News Service by Covenant missionaries Tom and Janice Kelly, serving in Mexico City.
"The streets of downtown of Villahermosa (the state capital) are flooded," writes Perez, a Californian who served as a short-term missionary in Mexico from 1992-1993. He also served on the Covenant Board of World Mission in the late 1990s and currently serves as director of Manos de Vida.
"People are getting around on boats," he notes. "The government says that 15,000 businesses have been lost. We have visited several shelters and have seen that people just got out with some clothes and an occasional piece of furniture. We went out to a rural area and visited some affected families by boat."
Adam Moore (from Oregon), a Covenant short-term missionary in Oaxaca from 2002-2004, is also part of the assessment team. He later returned to Oaxaca and works with Perez as International Program Coordinator.