By Stan Friedman
CHICAGO (December 23, 2005)  – Joyce Nelson says she always was a bit  rebellious and a challenge for her parents.
"We were a raucous bunch of kids," says Nelson. "Three of the four of us  fit the stereotype of pastor's kids."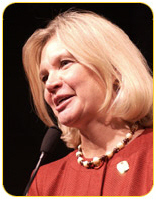 The president and CEO of  the National Multiple Sclerosis Society, Nelson says she now has more  respect for her parents, Margaret and the late Wesley Nelson, a  well-known Covenant pastor and former North Park Theological Seminary  professor. (To read Joyce's reflections during a memorial service to her  father in January 2003, please see
Wesley Nelson.)
"My appreciation and connection with my folks and the admiration  continue to grow," Nelson says. "They, for me, really modeled a calling,  and you don't find that much anymore, where people feel called to a  certain work."
Called is exactly what Nelson feels in her job. "When you're called, you  don't worry about the hours you put in. I don't think I realized at the  time how much of an influence they were on me."
Nelson was elected by the Board of Directors in December 2004 and became  president in January after having spent 21 years working her way up  through the organization. Though she had been the national director of  field operations for five years preceding her election, she says she is  surprised by the demands of the job.
Once thinking she knew almost all there was to know about the job,  Nelson says, "I'm learning I didn't know as much as I thought I did."  She adds, "What I didn't know is how much I would love this work."
The work this past year has meant earning a lot of air miles as she  travels from her home in Denver to numerous locations in the country.  Not only is she learning more about the job, she is gaining a better  understanding of her father's work.
"There's quite a lot of speaking in my job," Nelson says. "That's why  I've gained a whole new appreciation for my dad. And he had to come up  with something different every week. At least I can use the same speech."
When Nelson graduated from North Park University in the early 1970s, she  never imagined herself leading a large nonprofit organization. Having  graduated with a bachelor's degree in English and secondary education,  the newly graduated student discovered she didn't care much for the  classroom.
She began looking to work for a nonprofit agency when she learned the  Multiple Sclerosis Society chapter in the San Francisco Bay area was  looking for someone to coordinate its read-a-thon, in which children  secured monetary contribution pledges for the books they read. She began  recruiting teachers and schools and got her first taste of fundraising.
Two years later she became the executive director of the office in  Kansas City, Kansas. "When I first started, it was just a job. After a  year or two, I saw that it could really be a career," Nelson says.
"I got to get involved in community development, building coalitions,  advocacy," Nelson recalls. "Now I get to spark the challenge in others.  That's why I'm enjoying the job so much."
Nelson's drive and desire to help others is quickly apparent when  speaking with her. They have been a major part of her life, even as a  teenager, when her father's involvement in the civil rights movement  influenced her.
She relates one story of being a high school senior in 1968 and deciding  she wanted to know what it was like to be a minority. To gain a better  understanding, she transferred in the spring to an all-black school on  the south side of Chicago. During the final weeks there, Martin Luther  King was shot and when she arrived at school, she learned it had been  closed due to rioting. Her friends got her out safely, however, so that  she could catch a bus back home.
She wrote an article about the experience called "Blue Eyes" that  appeared in
The Covenant Companion.
As a result, she and the  magazine each won the 1969 Brotherhood Award from the National  Conference of Christians and Jews.
During her years at North Park University, she traveled as part of a  folk gospel team and became the school's first female student body  president in 1971-1972. She worked for years at Camp Squanto, part of  the Pilgrim Pines Conference Center in West Swanzey, New Hampshire.
She also worked as a youth minister at North Park Covenant Church in  Chicago. "What I always will treasure about that (experience) was that  my dad was the interim pastor at the same time," she says. "That was a  real special opportunity for me."
Today, Nelson says is experiencing another kind of special opportunity.  "When you get into this kind of work, you are blessed and very fortunate  about the kind of work that you are doing."
Copyright © 2011 The Evangelical Covenant Church.