SPRING VALLY, CA (December 12, 2005)  – After singing together for 40 years and  ministering to Covenanters across the country, the award-winning  Covenant Gospelaires Quartet is catching up with the times. Due to  popular request, all of the group's albums are now available on CD.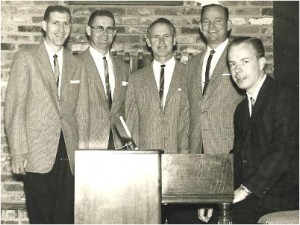 The quartet celebrates June 17, 1952, as its birth date. Since then, the  Gospelaires have sung at churches in many denominations, made numerous  radio and television appearances and were featured during one Easter  sunrise service at the Pasadena Rose Bowl. The quartet also says it was  associated musically with evangelist Leighton Ford and the Billy Graham  evangelistic team.
The Gospelaires won the National Evangelical Film Foundation award for  "Best Sacred Male Quartet Album" in 1965 for Presenting . . . The  Covenant Gospelaires. They also won in 1968 for Contemporary  Gospel Sounds and again in 1971 for It's a Wonderful Day.
Members of the quartet are Dave Boldt (first tenor), Mel Anderson  (second tenor), Evert Anderson (baritone), Bob Swanson (bass), and  Charles Magnuson, accompanist and arranger. The Gospelaires still live  in Southern California and three of the four members reside at Mt.  Miquel Covenant Retirement Village in Spring Valley.
To learn more about the group and available music, please see
Gospelaires.
The  accompanying photo shows the group in the early 1960s. Members are (from  left) Dave Boldt, Mel Anderson, Evert Anderson, Bob Swanson, and Charles  Magnuson at the piano.
(Editor's note: Since publication of this article, we have received  several comments from Covenanters recalling their experiences with the  Gospelaires. One comes from Betty Jo McPhee, especially well-known in  Covenant musical circles for her own contributions to Covenant  musicology over the years. Betty Jo writes from Kirkland, Washington:
"There is so much more to the story of the Covenant Gospelaires. What  stands out to me is their faithful loyalty to their home church. The  Rolling Hills Covenant Church was started in the home of Ev Anderson.  They all had great influence on the growth of that church. Both Ev and  Mel Anderson were the first choir directors. Bob Swanson served for  years on the Covenant Board of Benevolence.
"But for me their greatest contribution was to the Sanctuary Choir. They  all four rarely missed a rehearsal and were there every Sunday morning,  except when they traveled, and were simply the foundation on which we  built the choir during the years I was Minister of Music at the church.  They were willing to sing at our church on a once-a-month basis and gave  an annual concert there. They also all gave me great encouragement when  the Campus Chorale was formed along with other graded choirs.
"I shall always treasure my musical relationship with them – but most of  all they continue to contribute to God's community here – each in their  own way."
Copyright © 2011 The Evangelical Covenant Church.