MOSUL, IRAQ (December 5, 2005)  – Evangelical Covenant  Church Chaplain Cpt.  John Grauer recently escaped unharmed when the armored Humvee he was  driving was struck by a roadside bomb known as an improvised explosive  device (IED).
Grauer's Humvee was leading three Stryker armored personnel carriers  around 7:30 a.m.  one morning as part of an effort to assist some of the  Iraqi leadership in distributing food and other assistance to Iraqi  residents, including children. (To read a brief account of distributing  the gifts to children, please see
Big Smiles.)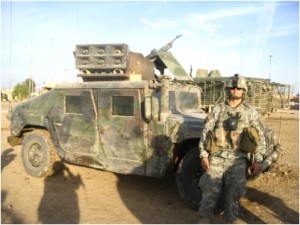 "The vehicle I was driving was hit by the blast and the hood of our  vehicle was on fire," says Grauer. That explosion was followed by  several others.
"My first reaction was wow, I can't believe we have been hit," says  Grauer. "My second reaction was to drive fast and get out of here.  Within about 10 seconds the fire on the hood was out, and I drove fast  trying to avoid any other IED's and to make sure everyone on the vehicle  gets to a place of safety."
No one was injured, and the blasts did not deter the soldiers, Grauer  says. "After driving out of the explosions we continued with our  mission. I know that God has his hand of protection on my life, and his  hand has been on many of the soldiers in the battalion," says Grauer,  who serves the 4-23 Battalion.
The IED's have become the deadliest weapon against U.S. troops,  according to news reports. The explosives are small bombs that are  planted in the ground or mixed in roadside debris and usually detonated  by remote control. It was an IED that killed Covenanter Army Sgt.  Russell Verdugo on May 23 as he tried to warn other soldiers of a  similar bomb.
Grauer says he covets and appreciates the prayers of Covenanters  everywhere. "I want to come back home to my wife, Tyra, and daughters  Maleah and Morriah."
Grauer is the writer and editor of the battalion newsletter and often  takes pictures of the missions on which he accompanies the troops.  Covenant News Service will continue to publish online news reports about  Covenanters and their work in Iraq as the material becomes available.
(Editor's note: to read a previously published account about Sgt.  Verdugo, please see Brave  Soldier.
Copyright © 2011 The Evangelical Covenant Church.