MOSUL, IRAQ (December 5, 2005)  – While on patrol in one of Iraq's most  dangerous areas, Lt. John Rose, who attends Community Covenant Church in  Eagle River, Alaska, and Covenant U.S. Army Chaplain Cpt. John Grauer  recently had the opportunity to spread smiles among impoverished children.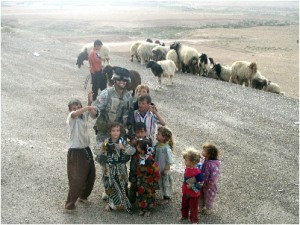 Rose is the leader of Alpha Company third platoon, which patrols the  area looking for insurgents. But the platoon, which Grauer often  accompanies, had the joy of distributing food, water, kites, soccer  balls and beanie babies, the chaplain says.
"The kids seem to come from everywhere," says Grauer. "The kids' faces  lit up. It was like a surprise birthday party." The joy is bittersweet,  says Grauer. "There are so many needs, and we simply do not have the  means to help everyone." The kids will nearly overwhelm the soldiers, he  adds.
The few homes that remain standing in the area just outside of Mosul  were left unoccupied when a military intelligence officer in the Hussein  government fled in advance of coalition forces, Grauer says. Several  Iraqi families that would not otherwise have shelter have moved into the  area, but still there is no running water, and the unemployment rate  exceeds 50 percent.
Copyright © 2011 The Evangelical Covenant Church.