USAF ACADEMY, CO (December 2, 2005)  – Covenanter Ted Meeker may have felt he  had to work as hard to get into the Ironman Florida Triathlon in  November as he did to get into the United States Air Force Academy.
Registration had long closed for the November 5 race when Ironman North  America announced September 14 that it was opening 10 slots for the race  in Panama Beach at $1,500 each to benefit the American Red Cross  Hurricane Katrina relief efforts. Meeks saw it as an opportunity to  help, but didn't learn of the openings until a day later – after the  slots had been taken.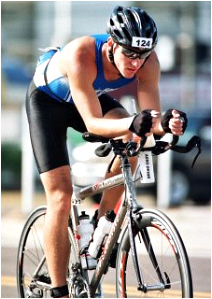 With perseverance befitting a triathlete, Meeker kept pleading his case  through telephone calls and email until he received approval for the  entry. "I think I made some people angry," he says.
He had to make the $1,500 commitment to the race before he had the  opportunity to get permission from his superiors at the academy, where  he is a senior. Meeks also had to quickly book flight and hotel  reservations.
Once approval was given and the arrangements made, there still was the  matter of training for the competition just weeks away. That was the  easy part.
Ironman competitors swim 2.4 miles, bike 112 miles and run 26 miles.  Meeker had competed in the Ironman Wisconsin races in 2004 and 2005. He  already was training several hours a day for the Marine Corps Marathon  scheduled a week before the Florida competition.
"I had the race of my life," says Meeker of the Ironman, a feat he  accomplished despite having run in the marathon only six days before,  which he finished in 4 hours, 29 minutes. His previous best in an  Ironman competition was 13 hours, 19 minutes. He cut that to 12 hours,  12 minutes, and would have done even better had he not lost a half hour  due to a flat tire in the biking segment.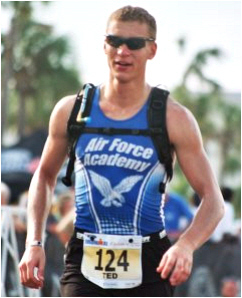 Meeker also was able to raise $2,000 from others, including his fellow  cadets, to benefit the relief work. "The whole thing was just a  miracle," he says.
Despite his obvious fitness, Meeker says his body's weakness is part of  the reason he runs. "As much as I hate to admit limitations of any kind,  one thing that doing a race like that really highlights to me is that  fact that my body is weak," he says. "Even at our peaks, we as humans  aren't capable of very much without the Lord's help."
While that concept is simple, Meeker says he needs something concrete to  make it real. "Ironman is that way. The only way I've gotten through any  of my races – and indeed much of the training – is by giving myself up  and letting God carry me. Even though the triathlon itself is a silly  race and doesn't amount to much, I know that I'm being taught a very  useful lesson through it, and that something much greater than just a  race will come of it in the future."
As for the future, Meeker is scheduled to graduate in 2006, and if  asked, he can tell you to the second how much time he has left. He also  hopes to qualify for the Ironman Hawaii World Championship in October.
Meeker is the son of Cindy and Chip Meeker, both North Park University  graduates who attend Bethany Covenant Church in Berlin, Connecticut.
Copyright © 2011 The Evangelical Covenant Church.