By Craig Pinley
CHICAGO, IL (December 16, 2004)  – North Park Theological Seminary (NPTS)  prepares many of the Evangelical Covenant Church's pastors, which  usually involves field education in the form of an internship serving a  local congregation.
This year, first-year student Katie Rose was involved with field studies  of a different kind, recently completing her eligibility for the North  Park University women's soccer team. Rose is pursuing a Master of Arts in Christian Ministry  (with focus in Leadership Administration) at the seminary. Playing for  her third coach, Rose's already-honed leadership skills paid dividends for new coach Bob  Usselman in recent months, with her nine goals aiding the team as it  finished 6-10-3 this fall. She finished with 21 career goals, second on the Vikings' career  list, and was second in career assists and points as well.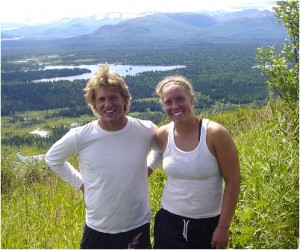 "Coaching Katie has really been a pleasure this year," Usselman said of  the Palmer, Alaska, native. "The way she goes about her business and the  way she respects the game is really impressive. She brings everything  she's got every day."
Although rural Alaska seems a far cry from the big city, Rose has felt  at home due to having many family members nearby. Brother Jamie, a  junior, is a starting defender on the North Park men's soccer team and a  cousin (Nick Bruckner) is a sophomore forward. An aunt and uncle (a  teacher at North Park University) live only a few blocks away. Rose, who  grew up at Mat-Su Covenant Church, said her familial ties made the  transition to North Park much easier.
"It was one of the implied things – being a kid in the Covenant – to  come to North Park," said Rose. "I had visited North Park when I was a  sophomore and while I had considered going to Covenant Bible College in  Ecuador, I decided I wanted to play soccer in college. North Park has  been a great experience." She says the adjustment has been on her mind a  fair amount, due largely she believes to the differences in the two  cultures – spending the summers in Alaska and then having the winters in Chicago. "But I've  gotten to know a lot of amazing people at North Park and it's good to  still be developing relationships here."
A team captain and a CCIW All-Academic team member during the fall of  2003, Rose was also the school's Student Association vice president and  its Homecoming Queen, making her a very visible part of campus  activities as a college senior.
These days, Rose is living with friends off campus and took seminary  classes in the morning this semester before heading off to practices or  matches. She notes that her life is mostly spent at the library or at  the field, making it difficult to acquaint herself with the seminary community.
"The hardest thing is that there is no differentiation between weekdays  and weekends," Rose observes. "The studying and the reading doesn't seem  to stop. I was captain last year but I wasn't interested in doing that  this year. But it's great to be playing. It's a good combination to be  doing seminary, but still having the soccer I love."
Along with soccer, the close relationship with brother Jamie made  transitioning to seminary more seamless as the two have a mutual respect  for each other's abilities. They also share a work ethic that won't  quit, whether on or off the field. They were commercial fishermen,  spending as many as 18 hours per day at work this summer at various  sites, to help pay for their education. (Accompanying photo shows Katie,  right, in one of the summer work locations in Alaska near Rainy Pass.)
"Here we were, in the middle of nowhere, and he was doing sit-ups trying  to get in shape," said Katie in recalling two weeks they worked  together. Jamie's extra effort and the North Park men's soccer team paid  off as the team won its first conference soccer title on November 6.  Jamie was glad his sister got to see it. He had been on a state title  team in high school but didn't play much in his first year at North Park.
"It was great to have Katie around the first two years," said Jamie.  "She was like a security blanket for me, especially my first semester at  school."
The grandchild of a Covenant missionary, Rose is considering a return to  Alaska to be part of some ministry like the Covenant Youth of Alaska or  the Amundsen Education Center after completing her seminary education.  In her spare time, she's involved as a volunteer representative for the  school as a student development assistant.
"I am and always will be a strong advocate for North Park," she said.  "It's a unique university that allows for and encourages growth for all  of its participants – in every aspect of life."
Copyright © 2011 The Evangelical Covenant Church.