ASHEBORO, NC (December 3, 2004)  – Central Carolina Community Covenant Church  celebrated a "Thanksgiving Pig Pickin'" event just prior to the  Thanksgiving holiday to help celebrate the dedication of a new facility.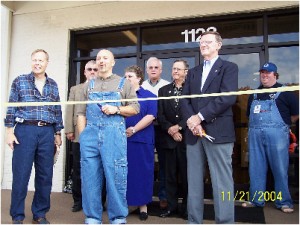 Mayor David Jarrell, along with four council aldermen, attended the  November 21 dedication service and assisted in cutting the yellow ribbon  that symbolized the grand opening (accompany photo). A total of 525  people attended the service, said church planting pastor Ed Arroyo, who  began the work about three years ago. Kurt Miericke (at left in photo),  superintendent of the Southeast Conference of the Evangelical Covenant  Church, preached during the dedication worship service. (To see  additional photos of the festive event, please see
Pig Pickin'.)
The new facility – a converted bowling alley – cost more than $3 million  to renovate, but the church only had to pay for about half that cost,  Arroyo said. The congregation has grown from a 40-person home meeting to  a church that averages around 400 in worship attendance.
A new health care ministry – focused on the elderly – has started,  thanks to the work of a number of nurses who attend the church. A  Christian formation program called "Journey" includes six classes that  range from financial planning and marriage enrichment to spiritual gifts  and using biblical principles to minister to all ages.
Central Carolina Community Covenant Church (known in the community as  C4) is located in a city of more than 40,000 people located in the  central part of the state. For more information about the church, call  Arroyo at 336-633-4404 or visit the church website at www.c44u.org.
Copyright © 2011 The Evangelical Covenant Church.