EAGLE RIVER, AK (December 1, 2003)  – Memorial services are set for 2 p.m., Saturday (December 6) at Community Covenant Church for former Covenant pastor and missionary Don Bruckner, who died last Saturday at his daughter's home in Palmer, Alaska.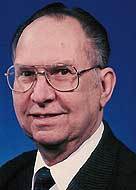 The 75-year-old Bruckner was a former field director for what is now the Evangelical Covenant Church of Alaska (ECCAK) and served with Covenant World Mission as a pilot and a staff member for KICY Radio, among other things. Among those expected to participate in Bruckner's memorial service are Rodney Sawyer, field director of ECCAK and Mark Meredith, senior pastor of Community Covenant Church of Eagle River.
"Don's contribution to ministry in Alaska was enormous," said Gary Walter, executive minister of church growth and evangelism for the Evangelical Covenant Church. "He and the colleagues of his generation had an unbelievable dedication and effectiveness. The fruit of their ministry continues to today, and will [continue] well into the future."
Born August 31, 1928, in Greeley Colorado, Bruckner moved to Seattle in his junior high years, attended First Covenant Church, and graduated from Roosevelt High School. After attending Seattle Pacific College for one year, he moved to Chicago where he earned an associate degree at North Park College in 1949. He took a one year pastoral internship in Erickson, British Columbia, and then completed the Bachelor of Divinity degree at North Park Theological Seminary in 1952. In that year he served Harvard Covenant Church in Tacoma, Washington.
Bruckner was ordained and commissioned to missionary service by the Evangelical Covenant Church in 1953. He accepted a call to serve the Eskimo village of Hooper Bay, Alaska, using his skills as both a pastor and bush pilot. While there, he met Eunice Irene Ericson, a nurse in Nome, Alaska in 1954. They were married in March 1955 and during the next two years Don served interim pastorates in Nome and Unalakleet. Following an extended itineration period to care for family medical needs, Bruckner served interim pastorates in Unalakleet and Mountain Village.
After a second itineration period, Bruckner served at KICY Radio from 1962-67 as an announcer and assistant engineer. He also hosted the well known program, "The Old Log Cabin." In 1967 Don began a "tent making" ministry in Fairbanks, starting the Fairbanks Covenant Church and serving as pastor until 1972. He moved to Anchorage and sold church building construction materials and helped Covenant churches in the area. He eventually served as field director for ECCAK (based in Eagle River) 1981 until 1986. Don and Eunice were known for their hospitality, ministries of encouragement, and love of native peoples and wild places, said the family.
Following a period of health problems, Bruckner had moved to Covenant Shores Retirement Community in Mercer Island, Washington, six weeks ago. He was spending Thanksgiving weekend with many in his family when he died. As befitting of his role as the family patriarch, he gave the pastoral prayer at Thanksgiving dinner, said Lillian Pearson, Don's sister-in-law.
Bruckner's wife, Eunice, preceded him in death in 1998. He is survived by children, James (Kristine) Bruckner of Chicago; Julie (David) Rose of Palmer, Alaska; Carolyn (David) Lundberg of Eagle River, Alaska; Byron (Susan) Bruckner of Fairbanks, Alaska; Wendell Bruckner of Eagle River, Alaska and 10 grandchildren. Several of Bruckner's children have continued in their parents' ministry footsteps: Jim Bruckner is a professor at North Park Theological Seminary and Byron Bruckner has been a longtime leader of youth ministries in ECCAK and is a co-director of Covenant Youth of Alaska (CYAK). Memorial gifts may be given in lieu of flowers to Amundsen Educational Center in Soldotna, Alaska, or to CYAK in care of ECCAK. Call the ECCAK office at 907-694-6348 for more information.
Copyright © 2011 The Evangelical Covenant Church.