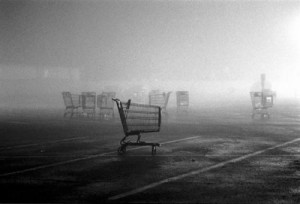 Galatians 5:12-1413 You, my brothers and sisters, were called to be free. But do not use your freedom to indulge the flesh[a]; rather, serve one another humbly in love. 14 For the entire law is fulfilled in keeping this one command: "Love your neighbor as yourself."[b]
"IS SHE A CHRISTIAN"? asks my 10 year old son, Riley as the lady quietly takes our cart to the corral and then climbs back into her SUV.  "Yes, Riley.  I believe she is" I comment and begin talking with our son about how Christians serve one another and that we can identify Christians by behavior…meaning Galatians 5:22 But the fruit of the Spirit is love, joy, peace, forbearance, kindness, goodness, faithfulness…
You see, this lady was not parking to go shopping.  She was in her car driving out of the parking lot.  She stopped her car and offered to take our cart.  I can only imagine what she saw.  A mom struggling to find her keys as her baby is tucked under one arm screaming,  and her son is running hot wheels off the bumper of her mini-van.  As the wind is blowing and the mom can't see anything due to the hair in her face it begins to rain.  The mom takes a deep sigh to regroup and start digging again.
Sometimes it is easy to identify a Christian by behavior that is putting the flesh aside.  Kelsey once said she knew her teacher JUST HAD to be a Christian.  Why?  I asked her.  Oh, because she is really nice Mom!  Kelsey did ask her teacher if she was a Christian about a week later and of course she was.  I love it when my children point out good behavior by someone and instantly believe that they have a relationship with Jesus.  The behaviors over the years they have pointed out have been when someone is nice.  Nice in action…or nice in deed.  Usually the action is a small thing.  Such as taking a cart, offering a smile, or helping pick up change if someone drops it or even choosing not to speak in anger at a obviously rude cashier.
Traveling through various airports my kids love it when they see missions teams.  All the bright matching t-shirts, backpacks and pillows.  They know without a shadow of a doubt that these team members are Christians.  Simply because they are serving others.
So, when was the last time a child turned to his/her mother and asked if YOU were a Christian?