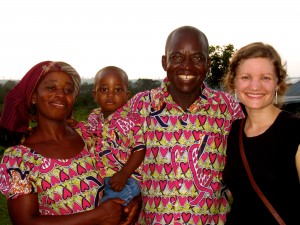 CHICAGO, IL (March 13, 2014)
By Stan Friedman
Donn Engebretson has been named the new Project Leader for Covenant Kids Congo powered by World Vision (CKC). Former short-term missionary to the African nation Christine Buettgen (shown right) has been chosen to be the new Project Manager and liaison with World Vision's Ledia Water Project.
More than 6,000 children have been sponsored, and 250 U.S. churches are participating in CKC's Ledia Water Project to provide access to clean water and improve the quality of education.
Engebretson will continue to serve as director of global advancement and will devote half of his time to CKC.
"I am deeply grateful that Donn Engebretson has accepted the call to serve as the project leader for Covenant Kids Congo powered by World Vision," said Curt Peterson, executive minister for the Department of World Mission. "The strong momentum of compassion for vulnerable children in Congo which developed under the leadership of Reesheda Washington will now continue. Donn has a passion for extending arms of love and grace to all, but especially to those in greatest need with the least resources available to them."
Peterson added, "Together with our partner church in Congo the Covenant is committed to a race against time and circumstances to save the lives of marginalized, vulnerable children, and Donn is the right person with the right gifts and the right heart for this critical part of the race."
Buettgen has served the past two years in Gemena as liaison for CKC and other programs designed to help Congolese become more self-sufficient. She will provide support for Hope Sundays in churches, and communication through the website, social media, and newsletters. She also will continue to serve as liaison with the World Vision Ledia program in Gemena by reporting all the progress benefiting children and families.
Engebretson shared, "I am humbled and grateful to give leadership to this marvelous opportunity for our church family to be the hands and feet of Jesus in DR Congo. My passion for our partnership with the people of the CEUM church in Congo and with World Vision is unbounded. My appreciation for the pioneering work by Reesheda Washington and Peter Cisneros giving leadership to Covenant Kids Congo is profound."
He continued, "On the basis of our wonderful beginning we intend to see this project though. President Gary Walter and Curt Peterson have blessed us by believing that we will indeed be faithful. They have honored us with a great challenge. By the grace of Christ we seek an even greater response.
"Here is what we believe can happen:
Every Covenant family praying for revival, renewal, and restoration in Congo.
Every Covenant family participating in this historic partnership.
Every Covenant person in the U.S. and Canada transformed for ministry here at home by our partnership with Congo.
Every child in the Equateur Province given the chance for a life of Christ-centered hope and exponentially expanded opportunity.
Every year all of us growing deeper in Christ and further in mission in every part of the world because together we have been faithful in our relationship with the people of Congo.
Great celebration in heaven as the Covenant Church and the CEUM live as powerful signs in our world of the God's coming kingdom as God's will is done on earth even as it is in heaven."