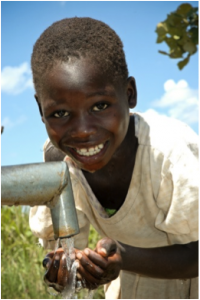 Click on here to read up on the latest progress report for the Water Project.  Thanks to your partnership clean water is becoming a reality for thousands in Gemena!
Planned WASH (Water, Sanitation and Hygiene) Activities include:
Construct three deep water extraction systems by drilling three borehole wells and equipping each with a solar-powered, submersible pump connected to a water tank and a small pipe network to carry water closer to families' homes
Establish a water point management committee for each water system
Construct improved sanitation facilities
Build hand-washing facilities
Provide hygiene and sanitation training
Watch this Video to see how World Vision's work for clean water in other areas of Africa is making a huge impact!
Check out the Covenant Kids Congo Water Project Report, August 2014!